Queer Heroes NW 2014:

Basic Rights Oregon
Basic Rights Oregon was formed in 1996 out of the community response to anti-gay ballot measures that plagued Oregon for more than twenty years. In fulfilling its mission to build power for lesbian, gay, bisexual and transgender Oregonians, the organization has secured historic victories.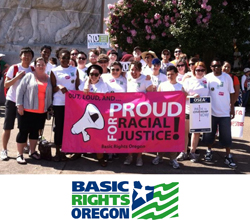 Early efforts included the Fair Workplace Project, establishing LGBT-inclusive employment policies in hundreds of Oregon businesses, and passage of more than a dozen local non-discrimination ordinances and domestic partner registries. More recently, the organization successfully passed The Oregon Equality Act (statewide non-discrimination law) and The Oregon Family Fairness Act (comprehensive domestic partnership law) in 2007 and led a coalition of over 40 social justice organizations to pass the Oregon Safe Schools Act (anti-bullying law) in 2009. In 2012, the organization worked to make Oregon the first state to clarify that transgender-specific health insurance exclusions violate Oregon law, dramatically increasing access to trans-inclusive health care in our state.
After Oregon voters passed Measure 36 in 2004, Basic Rights Oregon began their educational campaign about why marriage matters. This strategy was later exported to other states, becoming the foundation of multi-state legislative and voter victories starting in 2011. In 2013, the organization launched Oregon United for Marriage, and also joined a federal lawsuit with ACLU of Oregon – in a parallel effort to win the freedom to marry. On May 19th, 2014, Oregon's marriage ban was lifted by a historic ruling.
Basic Rights Oregon's intersectional approach ensures that all members of our community, especially those who are most marginalized, can change the policies that most impact their lives, so that we can all work to end homophobia, transphobia and racism.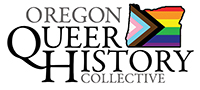 Copyright ©2014 • Gay & Lesbian Archives of the Pacific Northwest