Rediscovering Family: Trystan and Biff
By George T. Nicola
December 15, 2017
Trystan Angel Reece and Biff (formerly John) Chaplow set a standard in their determination to establish a loving and nurturing family.
Trystan was assigned female at birth, but from an early age, always saw himself as a gay male. After his gender transition, Trystan met Biff, a cisgender gay male, at a community event. They soon entered into a relationship.
Biff Chaplow, Trystan Angel Reese,
and their kids. Photo credit to Kevin Truong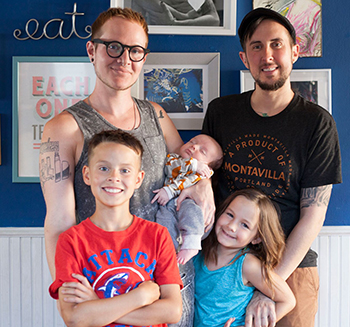 Part of the couple's story was told in a 2015 People magazine article California Gay Couple's Unexpected Journey to Parenthood: It's like a Dream Come True. In 2011, Trystan and Biff were living in California when Biff got a call from a state social worker. The social worker told Biff that his sister's kids, ages 1 and 3, would be put into foster care in a few days unless he could take them. Neither Trystan nor Biff wanted the kids to go into foster homes, so the couple took in Biff's niece and nephew. The children came to them with lots of physical and emotional issues. Meanwhile the situation with their nuclear family got worse. Biff successfully went to court to get emergency guardianship. Later, Trystan and Biff filed to become the children's permanent guardians. "The legal proceedings lasted four years – a long process that drained them both financially and emotionally", but it's a decision they have never regretted. Eventually, they adopted the kids.
The couple was also the subject of a series of interviews on The Longest Shortest Time (iTunes' top-rated parenting podcast), and have been covered in Buzzfeed and La Opinion articles.
Trystan went to work for the National LGBTQ Task Force. They eventually assigned him to Portland to work on Oregon's marriage equality campaign. In 2013, Trystan and Biff were married in a state where same-gender marriage was legal by then. In the process, they made a lifelong commitment to teach other and to their children. They bought a home in Portland's interracial and multicultural Montavilla neighborhood.
Professionally, Trystan is currently Vice President of Development and Communications for Camp Fire Columbia. Biff was a social worker and anti-poverty advocate on skid road in Los Angeles, and is now a full-time parent. Trystan spent much of 2015 on the board of Portland's Q Center, helping it survive after a major crisis. Together, Biff and Trystan are the founders of Beyond these Walls, which works to build systems of support for LGBTQ prisoners nationwide. Trystan also served as Development Director for Immigration Equality, which works to provide legal services to LGBTQ asylum-seekers fleeing persecution in their countries of origin.
In 'My body is awesome': Trans man expecting first child, Trystan told a CNN reporter that he kept his "original parts," and says he never wanted to change his body. He shared in a video post on the couple's Facebook page "I think my body is awesome. I feel like it's a gift to have been born with the body that I did, and I made the necessary changes so that I could keep living in it, both through hormones and through other body modifications."
In 2015, the couple decided to try for their own biological baby. The first attempted ended in a miscarriage. The second resulted in baby Leo's birth. The couple shared their story especially in the LGBTQ community because they "wanted to help queer people create families."
When news of their biological child broke, they received some negative feedback, but overall response was positive. Their family was the subject of a glowing article Accidental Gay Parents' Show There's No One Path to Creating Family. Biff told the publication "I hope that people take away that there is not a set definition of what family looks like or what it means to be family and that all of us, queer or not, would benefit from the ability to choose our family."
In order to continue communication on their experiences, the couple maintains a Facebook Biff and I page. It invites viewers to "Follow our parenting, baby-making, and general life adventures here!" They also maintain a site outside of Facebook called Biff and I.
(This article is part of my series "Rediscovering Family". I plan to publish these story by story over a period of time.)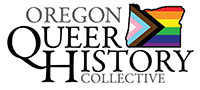 P.O. Box 3646 • Portland, OR 97208-3646 • info@glapn.org
Copyright © 2017, Gay & Lesbian Archives of the Pacific Northwest