Rediscovering Family:
Dawn Holt and Shaun Simpkins
By George T. Nicola
Date: December 20, 2017
Dawn Holt and Shaun Simpkins set a standard of parental support for an LGBTQ child. Mother and father of a gay man, Dawn and Shaun have strongly backed him on a personal level since he came out at the age of 14.
To Dawn and Shaun, there was never a question about accepting their son as gay, but Christopher's coming out came as a surprise. Dawn takes up the story:
Dawn Holt and Shaun Simpkins
with their son Christopher Holt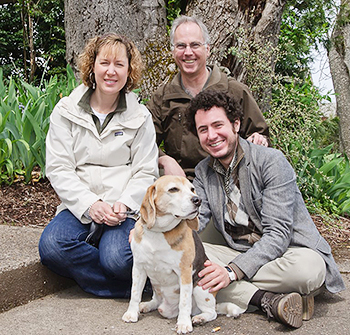 "My first reaction when Christopher came out was, 'You are? We love you. Carry on!' 'Mom, it may not be a big deal to you, but it is to me.' He was right. He would always have our love and support, but we soon learned that's not enough. Just growing up safe, loved, and happy was, and still is, not assured for an LGBTQ child. So that became our mission. We began looking for ways to make the very frightening world that Christopher was about to enter a more welcoming place for him and other LGBTQ youth. 
It was tough to figure out where to begin. There was so much need. We knew that activism would eventually be a big part of that mission, but first, our family needed to stay whole and strong. And for that, we needed the support and guidance of others like us."
Dawn and Shaun became active in several LGBTQ organizations, including PFLAG Portland Oregon (https://www.pflagpdx.org/), the 40-year-old local chapter of PFLAG, the national network that provides support to families with LGBTQ loved ones. In 2006, Shaun became the administrator of its website, communications, and data base. Dawn became PFLAG Portland's President, rebuilding its board and refocusing its efforts on those most in need – youth, transgender individuals and their families, and communities of color, expanding it into a family of chapters helping build community across the Portland Metro region.
PFLAG Portland has been very successful in grant-making to Gay Straight Alliances and other youth-led organization to help them serve the LGBTQ youth of our communities. It has warmly embraced the trans community for many years, and is a national leader in modeling how PFLAG can serve the needs of trans people and their families.
In 2007, PFLAG Portland reached out to parents and leaders in the African American community in support of efforts that led in 2009 to the creation of a group called PFLAG Portland Black Chapter (PPBC). PPBC was the first PFLAG chapter in the nation to be created by and for the African American community. Its achievements have been stellar. In 2016, PPBC reorganized as a separate group called Sankofa Collective Northwest. Although it is now outside the PFLAG network, Dawn's work in getting it started was groundbreaking.  
Dawn and Shaun's contributions were recognized in 2014 when the PFLAG Portland Family of Chapters became the first LGBTQ organization to win the prestigious Spirit of Portland Award. (https://www.portlandoregon.gov/oni/article/235134). The following year, PFLAG Portland shared the PFLAG National Support award with PFLAG Columbia-Howard (Maryland) for its leadership in developing its network of community-responsive chapters to better serve the diverse Portland Metro area. (http://www.glapn.org/6042ArticlesElsewhere.html#pflagaward) In 2016, Pride Northwest presented Dawn with their Gretchen Kafoury Pride Ally Award. (http://glapn.org/6034OregonPrides.html)
Dawn now serves as a member of the PFLAG National Board of Directors. She is also PFLAG's Regional Director for Oregon, Washington, Montana, Idaho, and Alaska. In this role, Dawn has facilitated the establishment of numerous other chapters in small towns and rural areas that are not so LGBTQ friendly. There, Dawn advocates strongly for the centrality of family support within the LGBTQ equality movement.
On a personal level, Dawn and Shaun have been among the PFLAG parents who have been major inspirations to me. I realized that if these straight cis people worked so hard for LGBTQ dignity and acceptance, I as a member of the LGBTQ community should work just as hard.
Thanks to Dawn and Shaun's leadership, PFLAG Portland is becoming an even brighter beacon of love and hope.
(This article is part of my series "Rediscovering Family". I plan to publish these story by story over a period of time.)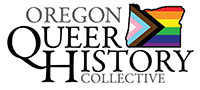 P.O. Box 3646 • Portland, OR 97208-3646 • info@glapn.org
Copyright © 2017, Gay & Lesbian Archives of the Pacific Northwest