Queer Heroes Northwest 2018:
Trystan Angel Reese and Biff Chaplow
When Trystan Angel Reese and Biff Chaplow came out in their respective small desert towns, they never imagined they would one day find love, get married, and have children. Yet here they are, parenting three beautiful children while still embracing the uniqueness of their queer identities.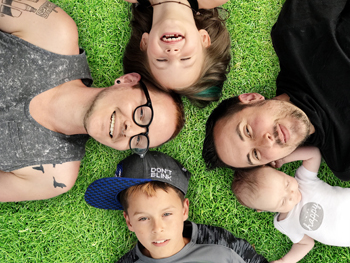 Trystan is a gay transgender man and Biff is a queer cisgender man. They adopted Biff's niece and nephew when the children needed a safe place to live; that story was covered in People Magazine and on the parenting podcast "The Longest Shortest Time." They then decided to grow their family by having a baby on their own terms— Trystan got pregnant and gave birth to their baby, Leo, in July of 2017. 
The story of "the pregnant man" took off quickly. While Trystan acknowledges that he is only one of hundreds of trans pregnancies around the globe, he tried to step up and tell his story responsibly; these two tattooed, pierced, queer men (one of whom was pregnant) ended up in millions of households on the nightly news. They fought tooth and nail for accurate, compassionate, truthful media coverage of their relationship and family building journey. 
Stretching past the clickbait nature of their story, they've continued to partner with venues like The Moth, Cosmo Magazine, and dozens of other entities committed to sharing their story of rebellion, love, and family. They receive daily messages from trans youth encouraged by their expansive definition of what it means to be a man, to be trans, to be queer, and to be a family. 
We begin announcing a hero per day on June 1, and the heroes' posters are unveiled in a reception at Q Center on June 7, 2018, 5-8PM. The public is invited. Queer Heroes' posters are displayed all year at Q Center.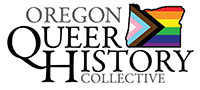 P.O. Box 3646 • Portland, OR 97208-3646 • info@glapn.org
Copyright © 2017