Queer Heroes Northwest 2018:
BJ Jones
Beryl "BJ" Jones is an eloquent African American elder lesbian who lives in Forest Grove.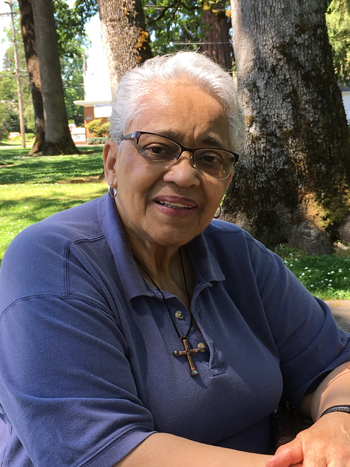 BJ is featured in the Basic Rights Oregon video "Our Families: LGBT African American Stories". She relates how in the 1980s, her lesbianism resulted in loss of custody of her daughter. She also has a grandson who she is not allowed to see. (http://9videos.net/video/m1AYIxGM_2g)
BJ has been especially active in PFLAG Portland, where she is very welcoming to new members. Long time PFLAG Portland President Dawn Holt notes "BJ is great. She's one of my go-to volunteers. She's done presentations for us, spoken on panels, staffed tables, and consistently shows up at the Washington County meeting to lend her unique voice, especially from the vantage of age. Yes, her personal story is not a pretty one. But she serves as a living reminder of how far we have come."
BJ has limited her ambulatory ability. She has been a familiar sight on her tricycle at recent Portland AIDS Walks, and in Pride parades as recently as 2017. In 2018, she'll be the one covering the PFLAG booth at the festival until the marchers come in from the parade.
We begin announcing a hero per day on June 1, and the heroes' posters are unveiled in a reception at Q Center on June 7, 2018, 5-8PM. The public is invited. Queer Heroes' posters are displayed all year at Q Center.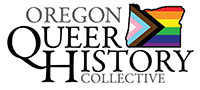 P.O. Box 3646 • Portland, OR 97208-3646 • info@glapn.org
Copyright © 2017