Queer Heroes Northwest 2018:
Ed Segel
Edward "Ed" Segel moved to Portland in 1973 from Berkeley for his appointment as a Reed College history professor. As one of the out faculty members, Ed served as a role model and mentor for LGBTQ students at Reed.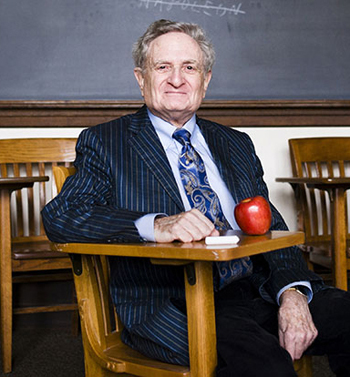 Shortly after arriving in Portland, Ed became politically involved through the main GLB equality organization at that time, the Portland Town Council. Over the years, he has supported various equality groups, including the Right to Privacy PAC, Basic Rights Oregon, the Q Center, and GLAPN. Realizing the importance of the Portland Gay Men's Chorus as ambassadors of good will, Ed has especially supported the Chorus since its founding over thirty years ago. Over the years, he has written various lyrics for the Chorus, and has also supported its fundraisers and its performances on the Reed campus. In 2015 the Chorus named Ed one of its honorary lifetime members.
After Ed's retirement in 2011, according to Reed Magazine, Reed alumni "banded together to recognize one of the college's most influential professors—Prof. Ed Segel [history 1973-2011]—by naming a scholarship in his honor."
---
Follow this link to read Ed's obituary in Reed Magazine. Here's an excerpt:
"Ed was openly gay at a time when this was rather rare in academia," said Prof. Matt Pearson '92 [linguistics]. "He was an early patron of the Portland Gay Men's Chorus, and an avid faculty supporter of successive generations of queer student groups on campus. In the early years, even in a city like Portland and at a college like Reed, that took guts. Today's generation of queer Reed faculty owe him a debt of gratitude."
---
Here's Ed Segel's obituary from The Oregonian:
Edward Barton Segel
Dec. 25, 1938 - Sept. 30, 2021
Edward Barton Segel, Emeritus Professor of History and Humanities at Reed College, passed away peacefully Sept. 30, 2021 at the Rose Villa/Madrona Grove retirement community in Portland, Ore., at the age of 82.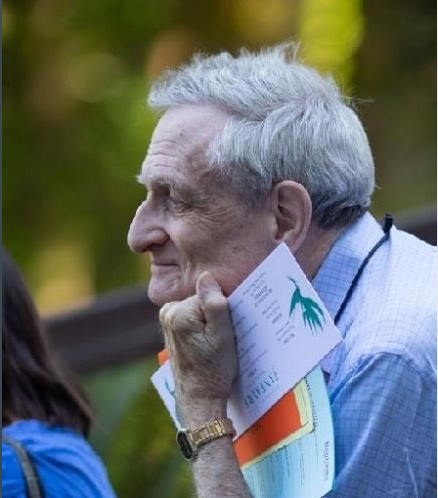 Ed was born in Boston Dec. 25, 1938 to parents Samuel and Mary (Lazarus) Segel. After graduating from Everett High School in Boston, Ed obtained his bachelor's degree in history, magna cum laude, from Harvard College, where he was elected to Phi Beta Kappa in his junior year. He then attended Wadham College, Oxford University, on a Knox Memorial Fellowship from Harvard University; and later graduated with an M.A. and Ph.D. in history from the University of California, Berkeley.
Ed taught history at the University of California, Berkeley, from 1965-73, and at Reed College from 1973-2011. His primary areas of interest were European Diplomatic History, 19th and 20th century Europe, and the Cold War.
Ed studied under Henry Kissinger at Harvard, anchoring his diplomatic interests. At Berkeley, professor Raymond Sontag, his mentor and dissertation adviser, also mentored U.S. diplomat George Kennan. These educational experiences helped form Ed's scholarship on diplomatic topics and particularly the doctrine of diplomatic containment.
Indeed, as many of Ed's students and friends are well aware, Professor Segel had two laws: 1) All problems are essentially problems of diplomatic history, and 2) Always save room for dessert! (Ed followed the latter rule scrupulously; he loved the chocolate budino at Nostrana and the chocolate torte at Papa Haydn's restaurant.)
Ed was known for his "quick wit" and sense of humor. He delighted in writing lyrics for Sullivan tunes [taking the role of Gilbert the lyricist] for the Portland Gay Men's Chorus, of which he was a long-time supporter. Ed was indeed a "renaissance man" and enjoyed playing pool, lecturing on Mozart and Beethoven, attending opera, and lending his name to the student history majors' softball team the "Flock of Segels."
As an Anglophile and monarchist, Ed could always tell you what had happened in the past in the British monarchy on any particular day. But probably the most memorable thing about Ed was the care and hopes he had for his many, many students from teaching at Reed College for 38 years. He always said, "I'm always happy if my students go on to become thoughtful thinkers, Ph.D.'s and academics, but what I really want them to do is go out and take over the world!"
Ed was a strong advocate and mentor for gay students at Reed, and his ardor for human rights and dignity extended to his civic life in Portland. He earned the distinction of "Lifetime Member" of the Portland Gay Men's Chorus, an award bestowed on him by its Board of Directors in honor of his persistent, long-term support for the uplifting mission of the Chorus. He was also known to grace the community activities of the Portland Q Center, Cascade AIDS Project, and OGALLA, the LGBT Bar Association of Oregon.
Ed's only brother, Lawrence Segel, predeceased him. He is survived by his niece, Linda Segel Ramos and her children, Stephanie and Stephen Ramos.
Memorial donations may be made to the Edward B. Segel Student Scholarship Fund at Reed College, or to the Portland Gay Men's Chorus.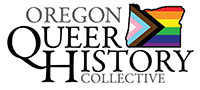 P.O. Box 3646 • Portland, OR 97208-3646 • info@glapn.org
Copyright © 2021