Queer Heroes Northwest 2018:
OGALLA
OGALLA was founded in 1991, and as such is one of the oldest existing LGBTQ organizations in Oregon. The name was originally an acronym for the Oregon Gay and Lesbian Law Association. Today, in order to emphasize the full spectrum it includes, the group's official name is OGALLA: The LGBT Bar Association of Oregon.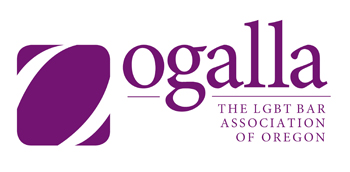 OGALLA describes itself as "an association of lesbian, gay, bisexual and transgender lawyers, judges, legal workers, law students, and others who support the association's purposes." It states that it "was created as a statewide organization to support the needs of sexual minorities and gender non-conforming people in the legal
profession."
Many members of OGALLA have been active in winning legal rights for LGBTQ Oregonians. A number of OGALLA members have held elected office. OGALLA members were among those attorneys whose arguments in court brought marriage equality to Oregon in 2014.
OGALLA is a member of the Oregon Judicial Diversity Coalition (OJDC). The OJDC interviews and chooses to endorse select members of the bar for appointment to the bench. OGALLA endorses candidates based on their contributions to the LGTBQ legal community. That process works to build a more diverse bench across Oregon.
OGALLA administers the Bill & Ann Shepherd Legal Scholarship Fund. The scholarship benefits "3rd and 4th year law students dedicated to donating their legal expertise to fighting bigotry and discrimination, particularly in the area of sexual orientation and gender identity." Shepherd Scholars have been hugely instrument in bringing LGBTQ equality to Oregon, including the freedom to marry. OGALLA also presents a number of awards to attorneys who have made substantial contributions to the Oregon LGBTQ community.
Since LGBTQ Oregonians are still subject to bigotry and discrimination, legal representation for our community is both symbolic and necessary. We thank OGALLA for helping protect us.

We begin announcing a hero per day on June 1, and the heroes' posters are unveiled in a reception at Q Center on June 7, 2018, 5-8PM. The public is invited. Queer Heroes' posters are displayed all year at Q Center.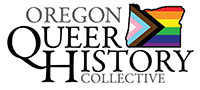 P.O. Box 3646 • Portland, OR 97208-3646 • info@glapn.org
Copyright © 2017