Queer Heroes Northwest 2017:
Anne Galisky
Anne Galisky came out in 1985 when she was 23. She likes the term queer. Anne is the daughter of a once-undocumented immigrant father whose family came to the United States after a seven-year journey from the Ukraine via Mexico.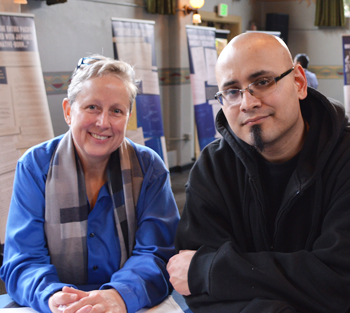 In 1992, Anne was the lead organizer of a two-week, 150-mile walk from Eugene to Portland called "For Love and Justice: A Walk Against Hate" during the notoriously contentious anti-gay Ballot Measure 9 campaign. Hosts and participants took on the risks that were inherent in boldly and publicly supporting the LGBTQ community in that highly charged environment.
In Woodburn, the only organization that was courageous enough to stand up for the LGBTQ community was Oregon's farmworker union (PCUN). Farmworkers met the LGBTQ walkers and allies on the edge of town and marched into Woodburn together. That evening a crowd packed into the PCUN union hall for a bilingual getting-to-know-each-other session, with dinner provided by a synagogue from Salem.
Twenty-five years later, PCUN President Ramón Ramírez still talks about the Walk for Love and Justice as a significant moment in developing the strong collaboration between Oregon's farmworkers and Oregon's queer community.
After working as a carpenter and contractor for many years, Anne co-founded Graham Street Productions with her partner Rebecca Shine. Anne directed the documentary films "Papers: Stories of Undocumented Youth" (2009) which screened in all 50 states, the U.S. Capitol Building and on public television stations nationwide and "14: Dred Scott, Wong Kim Ark & Vanessa Lopez" (2014), a film that explores who has the right to be an American citizen.
Anne is the creator of the exhibit "Architecture of Internment: The Build Up to Wartime Incarceration" (2017), a traveling exhibit that reveals the role of Oregonians in pushing for the incarceration of Japanese Americans and Japanese immigrants during WWII.
In the photo: Anne Galisky with Cesar Pineda,
Youth Producer of "Papers: Stories of Undocumented Youth"
at Graham Street Productions exhibit launch. March 2017.
Photo by Roland Wu, Courtesy of Graham Street Productions.
We begin announcing a hero per day on June 1, and the heroes' posters are unveiled in a reception at Q Center on June 15, 2017, 5-7PM. The public is invited. Queer Heroes' posters are displayed all year at Q Center.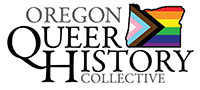 P.O. Box 3646 • Portland, OR 97208-3646 • info@glapn.org
Copyright © 2017