Queer Heroes Northwest 2016:
Jaycen Marcus
In 2013, a college sophomore in Oregon set off a nationwide dialogue about gender, law, and faith.
Jaycen Marcus was a sophomore at George Fox University, an institution associated with the Religious Society of Friends (Quakers), located in Newberg, Oregon. A transgender male who had transitioned medically and socially while at George Fox, Jayce requested a transfer from the women's to the men's dormitory.
The university denied his request; Jayce sought legal counsel, and he suddenly found himself in an international discussion.
The question, said the New York Times, was,"What defines gender, and who gets to decide?"
George Fox University administrators, operating from an evangelical mindset, regarded Jayce as female, and prohibited unwed students from living with members of the opposite sex.

Attorney Paul Southwick took the case, stating that by denying Jayce on-campus housing on the basis of his sex, gender identity, or transgender status the university had violated his rights under Title IX. While ostensibly trying to reach an agreement with Jayce and Southwick, George Fox administrators applied for and received a religious exemption to Title IX, rendering negotiations moot. Jayce was forced to move off campus in order to live with his friends.
Jayce lost his case, but in the process George Fox University has created an activitist. Remaining at George Fox, Jayce became a student advocate for marginalized communities. "There are a lot of voices at George Fox, and in the broader Christian community, that get silenced or ignored, including the voices of people of color, the LGBTQ community, and people with disabilities," he said.
Set to graduate from George Fox in June 2016, Jaycen was recently accepted into the 2016 Basic Rights Oregon Trans Leadership Cohort.

We begin announcing a hero per day on June 1, and the heroes' posters are unveiled in a reception at Q Center on June 15, 2016, 5-7PM. The public is invited. A traveling version of the Heroes posters will be displayed by GLAPN and Q Center at Portland Pride.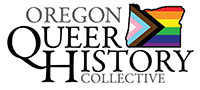 P.O. Box 3646 • Portland, OR 97208-3646 • info@glapn.org
Copyright © 2016