Click on the header to return to the Measure 9 home page.
Commentary on the Measure 9 30th Anniversary
Opinion | A Black Oregonian looks back on the failure of 'No On 9' to address racism
While the 'No on 9' committee successfully defeated the measure, it did not challenge the dominant white supremacy that persisted throughout the movement and society, by Cecil Charles Prescod
| 9 Nov 2022.
Read AT THIS LINK.
Opinion | Organizing across identity, community and the state
against Ballot Measure 9
Opposition to the anti-LGBTQIA+ Measure 9 rallied support throughout Oregon to fight a shared cause
by Melissa Lang | 2 Nov 2022
Read AT THIS LINK.
Opinion | Remembering the fight against Ballot Measure 9
Oregonians came close to adopting one of the most regressive laws in the country, but activists and community members fought hard against Ballot Measure 9
by Melissa Lang | 26 Oct 2022
Read AT THIS LINK.
---
GLAPN scholarship on the OCA Ballot Measures
Many of GLAPN's Queer Heroes were involved in fighting the Oregon Citizens Alliance Ballot Measures. These brief descriptions link to larger profiles in our Queer Heroes NW pages.

Some of the earliest advances in LGBT equality were accomplished by attorneys within our community. One of the standouts is Charlie Hinkle, whose pioneering efforts have benefited Oregonians and set precedents on the national level … Read More …
Marcy Westerling began organizing in the rural communities of Oregon in 1992 to combat the anti-gay Ballot Measure 9 of the Oregon Citizens Alliance. In 1993, the groups she founded joined forces to become the Rural Organizing Project, with Marcy as Director. Read more …
Kathleen Saadat helped organize Portland's first gay rights march in 1976. She was a leader in defeating the Oregon Citizens Alliance measures of the 1990s, and she has touched all levels of government in Oregon. Read more …
Harriet Merrick, in cooperation with the American Civil Liberties Union, took the Oregon Citizens Alliance to court in the early 1990s, and in 1992, in Merrick v. Oregon, the OCA's Ballot Measure 8 was ruled unconstitutional. Read more …
Thalia Zepatos has played a leading role against every anti-gay ballot measure in Oregon since 1988. Widely credited as a "message guru" who cracked the code on marriage, Thalia's work led directly to the first four statewide marriage victories at the ballot in 2012. Read more …
In the early 1990s, a young writer named Catherine Stauffer set out to infliltrate the anti-gay Oregon Citizens Alliance. In the process of being ejected from an OCA meeting, Catherine was injured, and she sued. That lawsuit was the beginning of the end for the OCA. Read more …
Holly Pruett came of age in time to fight the first Oregon Citizens Alliance ballot measure in 1988, and discovered she had a knack for organizing and political action. Her resume includes almost every significant political group in Oregon, from that first OCA initiative in 1988 through the national victory with Freedom to Marry in 2015. Read more …
In 1992, Anne Galisky was the lead organizer of a two-week, 150-mile walk from Eugene to Portland called "For Love and Justice: A Walk Against Hate" during the contentious anti-gay Ballot Measure 9 campaign. Hosts and participants took on the risks involved in boldly and publicly supporting the LGBTQ community. Nowadays she's a filmmaker, responsible for "Papers: Stories of Undocumented Youth" (2009), and "14: Dred Scott, Wong Kim Ark & Vanessa Lopez" (2014), a film that explores who has the right to be an American citizen.Read more …
Tom Potter is a former chief of police and mayor of Portland. His daughter Katie, an out lesbian, recently retired from a career as a Portland police officer. In 1990 when Tom, recently appointed Chief of Police, marched in uniform with his daughter in a Portland Pride parade, conservatives were scandalized. Tom Potter was elected mayor in 2004. Tom began a transformation at Portland Police Bureau regarding LGBTQ issues which is still going on, and Katie's activism, inside and outside of her police work, have contributed substantially to LGBTQ inclusion, dignity, and equality. Read more
Pat Young was one of the founding members of GLAPN (Northwest LGBTQ History) in 1994, and has held various leadership positions in the organization. During the early 1990s she lobbied her employer (Tektronix) for health benefits for same-sex couples to match the company's hetero- domestic partner benefits, effectively outing herself to the entire company. In 2009 she became the third person to teach the LGBTQ History Capstone class at Portland State University, supervising the creation of 165 oral history interviews which are now in the archives of Oregon Historical Society. Read more …
Donna Red Wing was Executive Director of Portland's Lesbian Community Project in the early 1990s when the Oregon Citizens Alliance sponsored dozens of anti-gay ballot measures. She led an enormous grassroots opposition to the OCA ballot measures, and was once labeled "the most dangerous woman in America" by the Christian Coalition. Read more …
EDWARD J. REEVES was "out" when he joined the law firm Stoel Rives in 1984, where he quickly took up LGBTQ causes. As a cooperating attorney with American Civil Liberties Union, Ed won precedent-setting anti-discrimination cases, and during the onslaught of Oregon Citizens Alliance ballot measures in the 1990s, he facilitated skills-building teaching thousands of LGBTQ people how to speak out forcefully for their rights. Ed was instrumental in founding both national and Oregon-based LGBTQ Bar Associations. For more than 15 years, Ed was a key member of the Basic Rights Oregon Legal Group, which was instrumental in the Oregon marriage battles and the 2007 passage in Oregon of the LGBTQ nondiscrimination and domestic partnership bills. Read more …
Linda Kliewer photo courtesy of NoOn9Remembered.org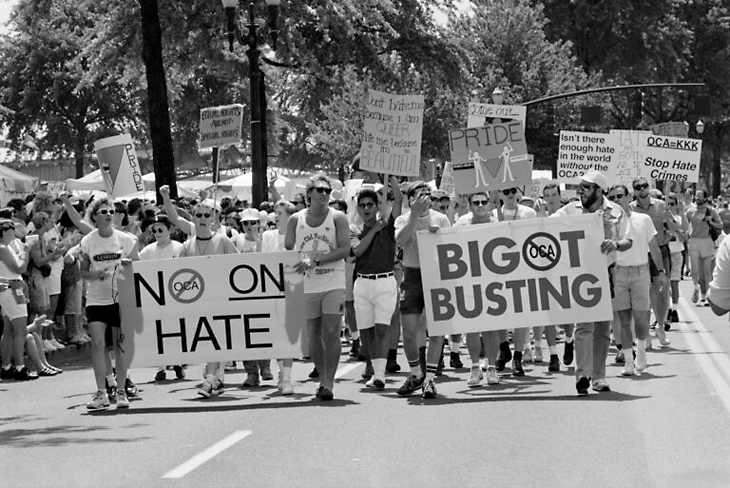 Ballot Measure 9 was defeated at the polls in 1992, 56 percent to 44 percent.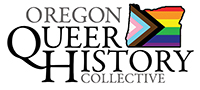 P.O. Box 3646 • Portland, OR 97208-3646 • info@glapn.org
Copyright © 2021, Gay & Lesbian Archives of the Pacific Northwest