Last edited: November 24, 2007
Sodomy Laws in the United States

The U.S. Supreme Court ruled 6-3 that sodomy laws are unconstitutional on June 26, 2003.

The majority opinion is based on privacy rights and is written by Kennedy, joined by Breyer, Souter, Ginsburg, and Stephens. O'Connor concurred on equal protection grounds.

The Decision
http://www.supremecourtus.gov/opinions/02pdf/02-102.pdf


The sodomy law map below is prior to Lawrence v. Texas. All states are now white, ie the sodomy laws are unconstitutional and unenforceable. However, some states still attempt to enforce their laws. See Virginia, Oklahoma, and North Carolina. The U.S. Military enforces its sodomy regulation without regard to Lawrence.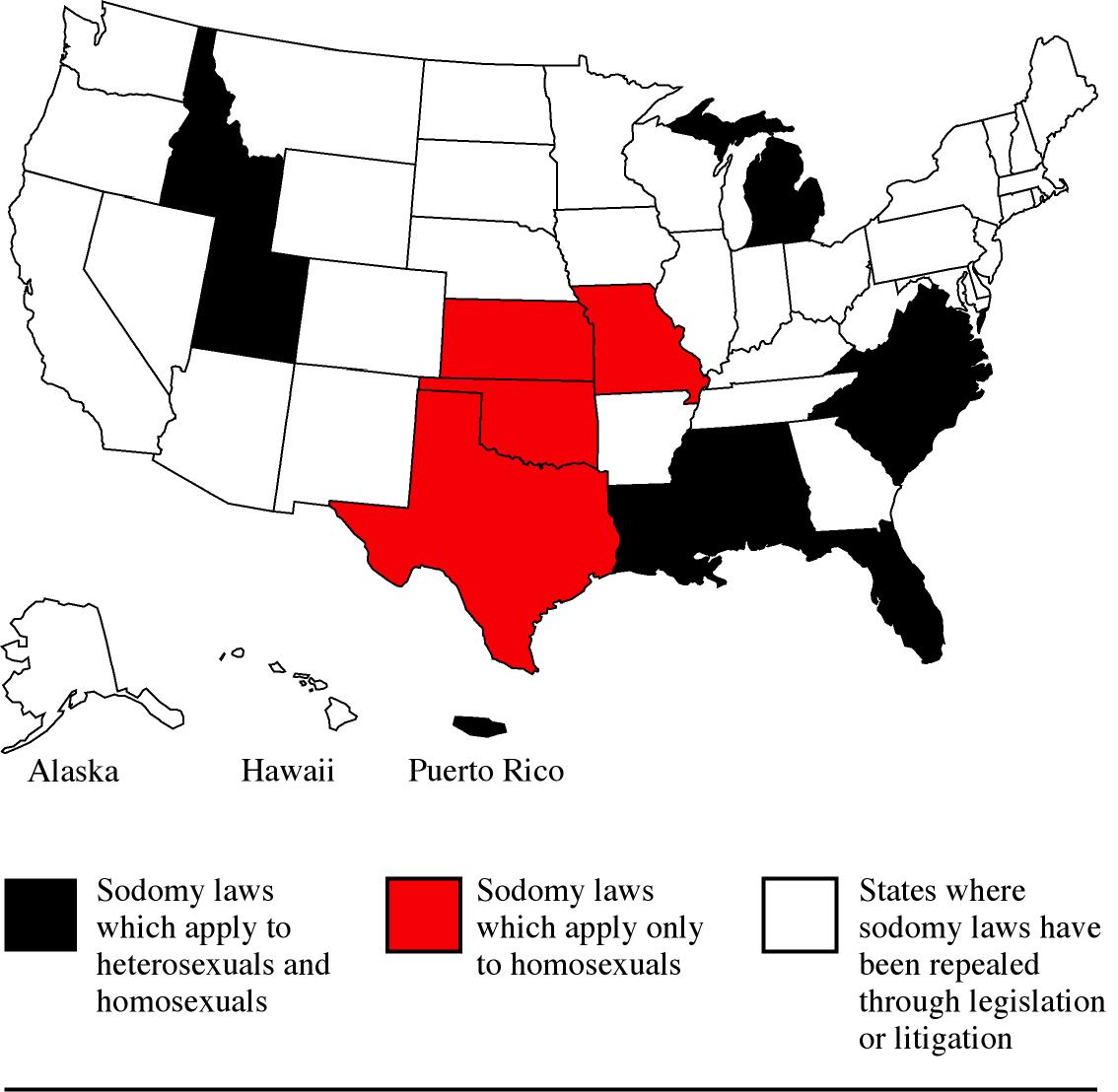 14 States, Puerto Rico and the military had sodomy laws until the ruling in Lawrence v. Texas.

Go to a specific state:

| Alabama | Alaska | Arkansas | Arizona | California | Colorado | Connecticut | Delaware | District of Columbia | Florida | Georgia | Hawaii | Idaho | Illinois | Indiana | Iowa | Kansas | Kentucky | Louisiana | Maine | Massachusetts | Maryland | Michigan | Minnesota | Mississippi | Missouri | Montana | Nebraska | New Hampshire | New Jersey | New Mexico | New York | Nevada | North Carolina | North Dakota | Ohio | Oklahoma | Oregon | Pennsylvania | Puerto Rico | Rhode Island | South Dakota | South Carolina | Tennessee | Texas | Utah | Vermont | Virginia | Washington | West Virginia | Wisconsin | Wyoming | American Samoa | Guam | Northern Mariana Islands | Virgin Islands | US Military |

What the wackos are saying.

---

National News

Craig to Make Constitutional Argument - by The Associated Press in 365Gay.com, October 26, 2007
Idaho Sen. Larry Craig will argue before an appeals court that Minnesota's disorderly conduct law is unconstitutional as it applies to his conviction in a bathroom sex sting, according to a new court filing.
Gay Tolerance in U.S. Reaching Record Marks - The Christian Post, May 29, 2007
Pro-gay rights attitudes have reached high points this year, according to a new poll, with more Americans expressing tolerance. 59 percent of Americans believe homosexual relations should be legal.
Alabama Sex-Toy Ban Goes to Supreme Court - The Advocate, May 15, 2007
An adult-store owner asks the U.S. Supreme Court to throw out Alabama's ban on selling sex toys as an unconstitutional intrusion into the bedroom.
Jerry Falwell Dies at 73 - The Advocate, May 15, 2007
The implacable anti-gay and religious right kingpin dies after being found unconscious in his study; a colleague cites his "history of heart challenges."
Many Teens Don't Know the Law About Sex - By The Associated Press in the New York Times, October 29, 2007
ATLANTA (AP) -- The tough Georgia law that sent Genarlow Wilson to prison for having oral sex with a fellow teenager has been watered down. But in Georgia -- and in many other states -- it's still a crime for teenagers to have sex, even if they're close in age.
Clinton, Obama Dodge GI Sodomy - GayCityNews, April 12, 2007
Only four of the 17 presidential hopefuls - Joe Biden, Chris Dodd, Dennis Kucinich, and Mike Gravel - are willing to stand up for the right of gay military personnel to privacy in their sexual behavior.
Gay, Lesbian Group Honors Controversial Jamestown Figure - The Virginian-Pilot, March 12, 2007
Records don't show whether Richard Cornish felt like a martyr almost 400 years ago as he stood on a Jamestown gallows with a rope around his neck. But he was adopted as one by the William and Mary Gay and Lesbian Alumni Association. GALA and a number of activists and historians recognize Cornish as the first man prosecuted and executed for homosexuality in the British North American colonies.
Gerald Ford Supported Gays and the End of Sodomy Laws - The Advocate, December 28, 2006
In a 2003 letter the late president Gerald Ford wrote to his friend and colleague Charles Francis that he supported the pro-gay side in the Texas case that ultimately led the U.S. Supreme Court to abolish sodomy laws nationwide. The letter was in response to a request by Francis, cochair of the gay-inclusive GOP group Republican Unity Coalition—which Ford advised—asking Ford to sign an op-ed piece calling for an end to sodomy laws.
Lawmakers Blast Emirates Over Jailing Gays - PlanetOut.com, March 17, 2006
U.S. Arab Allies Attacked on Human Rights Record - 365Gay.com, March 8, 2006
U.S. Legislators Press Rice on UN Vote Against Gays - Reuters, February 8, 2006
Bush Admin Equates Gay Rights Groups with Pedophilia - 365Gay.com (Associated Press), February 4, 2005
Frank Blasts Condi's UN Gay Position - 365Gay.com, February 2, 2005
United Nations: US Aligned With Iran in Anti-Gay Vote - Reuters (Human Rights Watch), January 25, 2006
U.S. Nixes Gay Inclusion At UN - 365Gay.com, January 24, 2006
Jail Condoms Draw Fire in U.S., Namibia - Gay.com, January 9, 2006
Fed Appeals Court Asylum Outrage - Gay City News, December 22, 2005
Fear of Persecution Gets Gay Lebanese Man Asylum Hearing - The Advocate, March 9, 2005
Gay Lebanese Man Gets Asylum Review - PlanetOut, March 8, 2005
Gay Lebanese Man Wins Asylum Hearing - 365Gay.com, March 8, 2005
Professional Boxers Unite to Seek Presidential Pardon for Jack Johnson - Joint Association of Boxers, March 2, 2005
Justice Department to Appeal Obscenity Case Dismissal - Florida Baptist Witness, February 24, 2005
Supreme Court Declines to Review Ban on Sale of Sex Toys - The Advocate, February 23, 2005
Supreme Court Lets Sex Toy Ban Stay - 365Gay.com, February 22, 2005
Activists Share New Perspectives - The Quad, February 21, 2005
Bush Renominates Embattled Judges - PlanetOut, February 16, 2005
Antigay Pryor Renominated for Judicial Bench - The Advocate, February 16, 2005
William Pryor and Janice Rogers Brown Maintain Radical Records - National Stonewall Democrats, February 15, 2005
Bush Renominates Homophobic Judge - 365Gay.com, February 15, 2005
HRC Urges Senate Not to Confirm Anti-Fairness Judicial Nominee William Pryor - Human Right Campaign, February 14, 2005
One Year Later: Pryor's Record on 11th Circuit - Law.com, February 11, 2005
Reporter Quits Over Ties to Gay Sex Sites - PlanetOut, February 10, 2005
Mystery Anti-Gay 'Journalist' Goes Underground - 365Gay.com, February 10, 2005
Online Reporter Quits After Liberals' Expose - Washington Post, February 10, 2005
A Federal Judge Dismisses an Obscenity Prosecution on Privacy Grounds - FindLaw, January 31, 2005
Memorabilia from Jack Johnson's Era Packs Quite a Punch - San Francisco Chronicle, January 31, 2005
Jackson Seeks Posthumous Pardon for Boxer Johnson - Chicago Tribune, January 30, 2005
Message Regarding NBC's "The West Wing" - Assembly of Turkish American Associations, January 28, 2005
Visitors Drawn to Jack Johnson's Grave in Chicago - Chicago Tribune, January 25, 2005
Pardoning Jack Johnson - Alternet.org, January 19, 2005
Feds Made Johnson, and Interracial Sex America's Taboo - EURweb, January 18, 2005
Jack Johnson Film Goes a Round Against Racism - Boston Herald, January 16, 2005
The Great Jack Johnson - BoxingScene.com, January15, 2005
Gay Nigerian Detained 11 Months Wins US Asylum - December 6, 2004
The Culture Wars (Kinsey) - December 6, 2004
Robertson: Gays And Lesbians Are "Self-Absorbed Hedonists ... That Want to Impose Their Particular Sexuality on the Rest of America" - December 2, 2004
Alfred Kinsey, and Judith Reisman's Dirty Little Mind - November 2004
Kinsey Lives! - November 23, 2004
Repeat Offender (Kinsey) - November 19-25, 2004
The Kinsey Effect - November 15, 2004
Esteemed Committee Spearheads Boxer Jack Johnson Presidential Pardon Effort; Praises Senate Resolution - October 7, 2004
McCain Resolution Calling on President to Posthumously Pardon First African American Heavyweight Boxing Champion Passes Senate - October 7, 2004
Judges Have too Much Power in Social Issues Scalia Says - September 29, 2004
Scalia Describes 'Dangerous' Trend - The Harvard Crimson, September 29, 2004
'Politics Trumps Science' at Psychological Association, Critic Says - August 4, 2004
Jack Johnson Pardon Brief -

July 30, 2004

Few Laws Help Gays in Cases of Domestic Violence - July 21, 2004
Court Questions Bush's Appointment of Antigay Judge - July 21, 2004
Appeals Court Questions Bush Anti-Gay Judicial Appointment - July 20, 2004
Democrats Ready to Vote on Marriage - July 10, 2004 [President Bush reverses his long held position on sodomy laws while advocating a constitutional amendment to enshrine discrimination in the U.S. Constitution.]
Sexual Freedom Activists Target 'Archaic, Unjust' Sex Laws - June 1, 2004
Old Anti-Gay Sex Laws Remain on the Books in Many States - May 31, 2004
Suit Filed by Ex-Madonna Beau Rejected - May 29, 2004
National Gay and Lesbian Task Force and Woodhull Freedom Foundation Announce Joint Effort Study of U.S. Sex Laws - May 28, 2004
A Family Business: For the Rev. Lou Sheldon and His Daughter, Marriage Means Only One Thing - May 20, 2004
Acceptance of Gays on Rise, Polls Show - March 30, 2004
Reports of Anti-Gay Violence Increase - March 18, 2004
HRC Strongly Condemns Recess Appointment of William Pryor to the U.S. Court of Appeals for the 11th Circuit - February 20, 2004
Bypasses Senate—Bush Places Anti-Gay on Bench - February 20, 2004
Senate Begins Work on Anti-Gay Amendment - February 7, 2004
Cornyn Blasts Gay Marriage Ruling, Plans Hearings - February 6, 2004
History Book Records U.S. Government's Persecution of Gays - December 31, 2003
Historian David K. Johnson: Exposes the U.S. Government's Anti-Gay Crusades - December 31, 2003
Annals of Homosexuality: From Greek to Grim to Gay - December 13, 2003
The Lavender Scare - November 1, 2003
Scalia Falsely Portrayed as Scoffer, Group Says - October 27, 2003
Conservative Supreme Court Justice Ridicules Sodomy Ruling - October 25, 2003
DNC Chairman McAuliffe Statement on Justice Scalia's Speech at the ISI - October 24, 2003
Justice Mocks Liberal Colleagues, Recent Decision on Sodomy Laws - October 24, 2003
Scalia Skewers Fellow Supremes - October 24, 2003
Scalia Ridicules Court's Sodomy Decision - October 24, 2003
Scalia Derides High Court's Gay Sex Ruling - October 24, 2003
Scalia Ridicules Court's Gay Sex Ruling - October 23, 2003
Senate Confirms Mosman - September 27, 2003
HRC Decries Advancement of Pryor Nomination to Senate Vote - July 25, 2003
Santorum's GQ Comments Provoke More Controversy - The Advocate, July 23, 2003
Court's Opinion on Gay Rights Reflects Trends - July 18, 2003
Gay in the USA - July 15, 2003
What Gay Studies Taught the Court - July 13, 2003
Debate on Gay Unions Splits Along Generations - July 7, 2003
Adversaries on Gay Rights Vow State-by-State Fight - July 6, 2003
Same-Sex 'Marriage' Draws Wide Disapproval - July 5, 2003
Pryor Faces Angry Democratic Committee - The Data Lounge, June 13, 2003
Another Bush Judicial Nominee Under Fire - The Data Lounge, June 11, 2003
Log Cabin Republicans Oppose Nomination of Alabama Attorney General William Pryor to U.S. Court of Appeals - Log Cabin Republicans, June 9, 2003
Six out of 10 Americans Say Homosexual Relations Should Be Recognized as Legal - Gallup News Service, May 15, 2003
Majority of Americans Believe Homosexuality Should Not Be Illegal, Support Partner Rights: Gallup Poll - 365Gay.com, May 15, 2003
Dems Tout Stances on Gays - Raleigh News & Observer, May 12, 2003
Sexing the Spirit - Michael Bronski in the Boston Phoenix, May 2-8, 2003
Pro-Gay Senator Backs Judicial Nominee - The Advocate, May 2, 2003
Federal Judicial Candidate Says He's Not Antigay - The Advocate, April 29, 2003
Mosman Meets with Gay Rights Supporters - The Oregonian, April 26, 2003
Three Bush Judicial Nominees Attacked on Gay Record - Houston Voice, April 25, 2003
Smith's Pick Stirs Gay-Rights Controversy - The Oregonian, April 21, 2003
Bush Nominee Has Antigay History - Advocate, April 11, 2003
A 'Safe Sex' Guide in House Gym Causes Embarrassment - The Hill, April 2, 2003
Disorder in the Courts - Frontiers Newsmagazine, March 14, 2003
Returning Home Would Mean Death, Says Iranian Student - Gay People's Chronicle, February 28, 2003
Students Getting More Gay-Friendly - January 31, 2003
Lambda Legal to Host Town Halls in 13 States - January 11, 2003
Not Just About Sex - December 16, 2002
Rental Discrimination Still a Fact of Gay Life - December 12, 2002
Supreme Court to Revisit Sodomy Laws - December 8, 2002
Can the Supreme Court Change Its Mind? - December 5, 2002
Perry Calls Sodomy Law 'Appropriate' - December 4, 2002
Black Robes Don't Make the Justice, but the Rest of His Closet Just Might - December 4, 2002
Court to Hear Texas Case on Gay Rights - December 3, 2002
Top Court to Address Sodomy - December 3, 2002
Justices to Reconsider Ruling Against Sex Between Gays - December 3, 2002
Court to Weigh Texas' Ban on Gay Sodomy - December 3, 2002
Justices to Decide Same-Sex Sodomy - December 3, 2002
Justices Take Gay-Rights Case - December 3, 2002
Sodomy Case to be Heard by Top Court - December 3, 2002
Supreme Court Nears Momentous Decision - December 2, 2002
Supreme Court to Hear Sodomy Case - December 2, 2002
Supreme Court Will Hear Sodomy Case - December 2, 2002
Supreme Court Agrees to Hear Sodomy Case - December 2, 2002
Supreme Court to Decide Texas Sodomy Law - December 2, 2002
HRC Applauds Supreme Court's Decision to Hear Texas Sodomy Case - December 2, 2002
US Supreme Court Takes Up Gay Sex Challenge - November 30, 2002
High Court Poised to Hear 2 Equal Protection Cases - November 29, 2002
The Second Annual Sodomy Challenge is Underway - September 4, 2002
High Court May Hear Sodomy Case - July 16, 2002
U.S. Supreme Court Asked to Review Constitutionality of Texas "Homosexual Conduct" Law - July 16, 2002
Group Hopes Texas Sodomy Case Heard - July 16, 2002
Gay Sex Law Appealed to U.S. High Court - July 16, 2002
Sodomy Wars Continue in the Court - April, 2002
The Dark Legacy of Justice White - April 24, 2002
Supreme Court Jurist Was a Star on and Off the Bench - April 16, 2002
Former Supreme Court Justice Byron White Dies - April 15, 2002
Former Justice White Dies at 84 - April 15, 2002
Sex-Crime Panic: Could It Happen Today? - January 21, 2002
NCSF Incident Response Statistics for a One Year Period - January 7, 2002
Who's the Best, Legally Speaking? - November 9, 2001
VOA Head: Homosexuality 'Morally Disordered' - October 12, 2001
The Sodomy Challenge - October 9, 2001
Court Refuses Discrimination Case - October 9, 2001
Congressmen Condemn Egypt - August 7, 2001
Gays Seeking Asylum Find Familiar Prejudices in U.S. - August 2, 2001
Activists Hope to Reverse Anti-Gay Ruling - July 30, 2001
Bowers v. Hardwick at 15 - July 12, 2001
Gay Abuse in Uganda Gets U.S. Attention - July 10, 2001
New Justices Will Strongly Affect Gay Americans - June 20, 2001
Books: Homosexuality and the High Court - June 10, 2001
American Attitudes Toward Homosexuality Continue to Become More Tolerant - Gallup News Service, June 4, 2001
U.S. Supreme Court Evolution Stirs Hope - June 4, 2001
More Sodomy Laws on the Way Out - May 31, 2001
Pro-Gay Trend Endures - March 9, 2001
New Bills in NC, MS, TX, AZ - January 12, 2001
Those Naughty Pilgrims - November 2000
Parties Shift in Legislatures - November 17, 2000
Gays Evoke Violent Reactions in US - October 15, 2000
2000 Presidential Candidates on Sodomy Laws - September 17, 2000
Holocaust's Gay Victims - July 14, 2000
Louisiana May Be Latest in 'Overwhelming Trend' of State Courts Finding Sodomy Laws Unconstitutional - April 10, 2000
In the Biblical Sense - November 29, 1999
'Unnatural' Sex Still Gets Prosecuted - April 19, 1999
Making Love Legal - March 1999
Letter: Making the Law Review - February 25, 2000
Scene of the crime; laws against gay sex can block everything we want - October 27, 1998
Sodom and Gomorrah: Where it all began - October 27, 1998
Lewis F. Powell Jr., Who Became the Quiet Centrist of the Supreme Court, Is Dead at 90 - August 26, 1998
Ex-Supreme Court Justice Powell Dies - August 25, 1998
Letter: Leftover laws hurt - April 19, 1998
An ever-shifting landscape - February 13, 1998
States Ease Registration Laws That Swept Up Gays - November 26, 1997
Powell regrets backing sodomy law - October 26, 1990
Homosexuals Get Short Shrift from the Supreme Court, But an Expert Says History Tells a Different Tale - July 21, 1986
Knocking on the Bedroom Door - July 14, 1986
Sick No More - December 16, 1973
Doctors Support Sodomy Law Repeal - January 1970

---

Congressional Action

---

Lobbying

Other Testimony on Sodomy Laws

---

Editorials

---

10 States and Puerto Rico with sodomy laws which applied to heterosexuals and homosexuals (On the map in black)

4 states with sodomy laws which applied only to homosexuals (On the map in red)

States where sodomy laws have been repealed legislatively (On map in white)

Sodomy laws have also been repealed in American Samoa, Guam, Northern Mariana Islands, Virgin Islands.


Judicial invalidation

Pennsylvania – Commonwealth v. Bonadio, 1980
New York – People v. Onofre, 1980
Kentucky – Commonwealth v. Wasson, 1992
Tennessee – Campbell v. Sundquist, 1996
Montana – Gryczan v. Montana, 1997
Georgia – Powell v. State, 1998
Maryland – Williams v. Glendening, 1998
Minnesota – Doe, et al. v. Ventura, et al., 2001
Massachusetts – Doe v. Reilly, 2002
Arkansas – Picado v. Jegley, 2002

---

The penalties for violating sodomy laws in the USA until Lawrence:

Idaho, 5 years to life
Oklahoma, 20 years
Michigan, 15 years
Mississippi, 10 years
Puerto Rico, 8 - 20 years
Louisiana, 5 years/$2000
South Carolina, 5 years/$500
North Carolina, 3 years
Virginia, 1-5 years
Alabama, 1 year/$2000
Missouri, 1 year/$1000
Kansas, 6 months/$1000
Utah, 6 months/$299
Florida, 60 days/$500
Texas, $500

---

[Home]