Queer History in Old Oregon: index of articles
Marie Equi lived openly as a lesbian, adopted a child with her partner, and was fearlessly progressive in her politics, eventually serving time in Federal prison for her opposition to World War I. Read more …
In 1912, 68 men were involved in a scandal in Portland for the crime of consensual sex. George Painter explores the scandal, and quotes from transcripts of the cases that went to trial. Read more …

Sodomy Law: laws and court decisions affecting consensual sexual activity in Oregon, by George Painter

Criminalizing specific sex acts has historically been the major means of oppressing gay populations. In Oregon, a eugenic sterilization law meant that "perverts and sexual degenerates" could be sterilized, as well. George Painter explains sodomy law in Oregon from Territorial days until the passage of the current law in the 1970s.
Portland had a gay bar, gay-owned and heavily gay-patronized, beginning in about 1907 in Portland. George Painter shares his research about The Louvre Restaurant, and its owner, Theodore Kruse. Read more …
An overview, with lots of outside references, to Oregon's Pre-Stonewall history. Read more …
Psychiatrist Ira Pauly began advocating for his transgender patients in 1961 while at University of Oregon Medical School, now Oregon Health Sciences University. An OHSU historian was able to interview Dr. Pauly about his work in May, 2015, and here we offer an introduction from some GLAPN members, plus a link to download the transcribed interview from OHSU.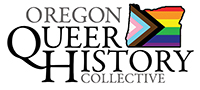 P.O. Box 3646 • Portland, OR 97208-3646 • info@glapn.or
Copyright © 2015