Queer Heroes NW 2022:
Sally Sheklow
Born in 1950, Sally Sheklow spent much of her time in service to the Eugene LGBTQ+ community.
From 1999 until 2017, she chronicled her life with her wife, Enid Lefton, in Eugene Weekly's "Living Out" column. Then-editor Ted Taylor recalls "Her column was always insightful and funny. She was an engaging storyteller and gave us all a unique view into a 'normal' life that dispels the stereotypes."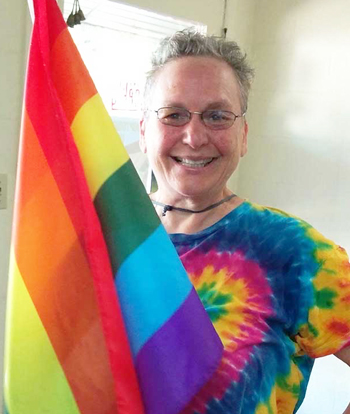 Upon Sally's passing in early 2022, the newspaper published a narrative of Sally's contributions. Enid says Sally was not only proud of who she was, she wanted to normalize who she was.

In addition to her writing, Sally had a bachelor's degree in Speech with a certificate in Women's Studies, and a master's in Leisure Studies and Services, focusing on therapeutic recreation, all from the University of Oregon. 
Sally worked for the Willamette AIDS Council, using her humor and creativity to lead safe-sex workshops and her kindness to support her brothers in end-of-life hospice. She worked at the Feminist Women's Health Center advocating for reproductive freedom. From 2000 to 2017, she taught the Introduction to Women's Studies course at Portland State University, and went on to teach other courses in the Women, Gender, and Sexuality Studies Deptartment.
Sally also organized against anti-gay campaigns. She helped plan Eugene's early Pride celebrations, created Balaboosteh — a group for Jewish lesbians that met to explore Jewish feminist spirituality and shared culture. She founded the improv troupe WYMPROV!, which raised lesbian visibility and money for good works for 27 years. 
Fighting for marriage equality was part of Sally's activism, too. Enid and Sally were one of the plaintiff couples in Li v. State of Oregon which sought to legalize Oregon same-sex marriage.
Sally's birthday fundraiser for White Bird Clinic's CAHOOTS program, helping people on the streets, has raised over $17,000.
Enid recalls that Sally's words "brought the community together."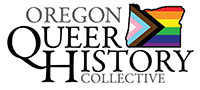 P.O. Box 3646 • Portland, OR 97208-3646 • info@glapn.org
Copyright © 2021, Gay & Lesbian Archives of the Pacific Northwest