Queer Heroes NW 2020:
Nikeisah Newton
One night Nikeisah Newton brought a well-received meal to friends who danced at a local strip club. Limited to club menus and late-night delivery, they struggled to access healthy food -- a shame, since Portland is known for its bustling food scene. As a Black Lesbian culinarian, with 15 years in the local food and beverage industry, Nikeisah decided to provide vibrant, healthy food options to sex workers, and Meals 4 Heels was born.
Started in January of 2019, M4H has delivered to nearly 40 clubs in PDX. Forging her own path, Nikeisah runs the business, prepares all the food, and personally delivers meals in her 2004 Nissan Altima. As a Black lesbian and social entrepreneur, the core of her business is love and service to the community.
Nikeisah is a fierce advocate for the marginalized. She also works with local social justice organizations such as APANO, Pride NorthWest, The Black Arts Festival, and Forward Together. M4H provides the menu for Trans Brunch PDX, which offers healthy food, transit vouchers, clothing, acupuncture and medical advice to houseless trans people. She also volunteers for Free Lunch Collective, a mutual aid program feeding food-insecure communities.
During the Covid 19 shutdown, Nikeisah fueled the front-liners and healthcare workers with healthy meals. Now, during the Black Lives Matter revolution, she is partnering with groups like Snack Bloc, a collective that provides free food for protesters, and Don't Shoot Portland, a Black-centered justice and advocacy organization working to dismantle systematic racism.
There is no other business like M4H in the world, and though she's been featured in media outlets all over the globe, Nikeisah is not driven by fame. She simply wants to be a part of the long line of Black lesbians whose activism has made the world a better, safer place for everyone.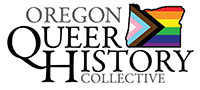 P.O. Box 3646 • Portland, OR 97208-3646 • info@glapn.org
Copyright © 2020, Gay & Lesbian Archives of the Pacific Northwest