Queer Heroes NW 2013
Heroes of Tomorrow
Of course, QHNW started by asking, "what is a hero, anyway?" We isolated traits such as service, risk, sacrifice, and example as traits we might consider heroic.
Service, risk, sacrifice and example don't know any age limits.
We're historians, and it is our mission to help our community remain mindful of its past. On the other hand, knowing a little bit about the past, we have a good idea of whose activities right now are going to appear historic – and heroic – when we look back at them.
So GLAPN and Q Center are proud to honor these Heroes of Tomorrow.
Erin Rook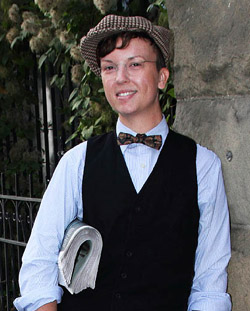 Erin Rook has been a journalist since his days at McMinnville High School. He has been a member of PQ's Monthly's editorial board since the first issue and is currently the web editor and a staff writer. Before PQ Monthly, he was on the editorial staff of Just Out, and his resumé includes queer and mainstream publications on both seaboards.
There is still a demand for intelligent and responsible reporting, and LGBTQ Portlanders are beginning to rely on Erin's level-headed coverage of local news.
Journalists are trained to keep themselves out of the story. However, people who report news, and who document history, occasionally make history themselves; and in the queer community, the mantra is, "come out, come out." As intensely as we may value privacy, we have learned to hate the closet more.
So Erin Rook came out twice this year, in print. It couldn't have been easy. He came out as a transgender man. And he went public, for the first time, with an unflinching look at his experience as a survivor of domestic violence.
When Erin is not busy with PQ Monthly, he volunteers with TransActive Education & Advocacy and the Bradley Angle LGBTQ Advisory Committee, dabbles in various creative pursuits, and spends time with his fiancé Corbin and cocker spaniel Cassady.
John Kim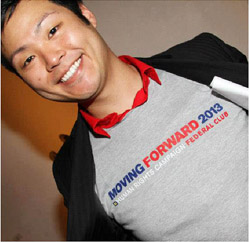 Although only 29, John Kim has made enormous contributions to the movement for LGBT equality. A gay man living in Vancouver, Washington, John is a second generation Korean American.

John keeps a very busy work and professional schedule. His job involves the design of high quality trumpets. He is also on the Board of Directors of the Northwest Youth Music Association.

John still manages to spend considerable time with the Human Rights Campaign (HRC), the largest LGBT rights organization in the United States. He is on the Board of Governors for the Oregon and Southwest chapter of HRC. In the past few years, John has traveled to Washington, D.C. numerous times to lobby for LGBT equality. On one visit, he was photographed with Vice President Biden.
John is an excellent public speaker, and often addresses the audiences at LGBT related events. His keen intelligence, dedication, and personal warmth are an enormous asset to our community.
Jonathan Reitan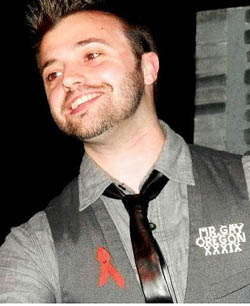 Jonathan Reitan was raised in Woodburn, Oregon and came out at a young age and as a teenager he quickly became involved in GLBTQ issues.
In 2000, Jonathan and a group of friends realized a need for GLBT awareness in their community and high school when they noticed that "sexual orientation" was not included in the Woodburn School District's discrimination policy. After much battle between community members, parents and the school board, they not only got the district to include "sexual orientation" in district policy, but they also formed Woodburn's first gay/straight alliance club, held Woodburn's first "National Day of Silence" event and created "Safe Space" classrooms where GLBTQ students could go to feel welcome when being faced with bulling & harassment at school. Jonathan and his then boyfriend were also the first same sex couple to ever dance together publicly at a school dance.
During and after high school, Jonathan was involved with Basic Rights Oregon with their then Youth Advisory Committee and Salem Action Team, working on the No on 9 and Measure 36 campaigns. He flew his gay pride flags with much pride outside his house in Oregon Citizen Alliance territory of Brooks, Oregon during this time.
After turning 21, Jonathan became heavily involved in the Salem and mid-Willamette Valley GLBTQ community. He served on the board of directors for Salem Rainbow Youth and Capitol Pride in which he produced the 30th annual Pride festival at Salem's Riverfront Park, the largest Capitol Pride festival in history. Also in 2007, he decided to run for the title of Mr. Gay Salem XXX (30). Shortly after receiving the title of Mr. Gay Salem, Jonathan was tested HIV positive and thus another mission in life was formed, to serve the HIV/AIDS community.
As part of the requirements for his year as Mr. Gay Salem, Jonathon had to host a fundraiser for a community organization. He couldn't think of anything more fitting then to benefit the very organization that helped him when testing positive, the Marion County Health Department HIV/AIDS prevention program, the first beneficiary of his annual "Red Ribbon Show".
Since 2007, the annual "Red Ribbon Show" has now raised tens of thousands of dollars for various HIV/AIDS organizations including the Tijuana AIDS Project, the Coastal AIDS Network, HIV Alliance, Camp Starlight and in July 2013 will benefit Our House of Portland. The "Red Ribbon Show" has grown to become an event to encompass all areas of HIV/AIDS awareness, prevention, education, a remembrance to those lost, and serves as Salem's most financially successful HIV/AIDS fundraiser in 30+ years.
In 2009, Jonathan ran for the title of Mr. Gay Oregon XXXIX (39) and along with Miss Gay Oregon XXXVIII (38), Adrienne Alexander, the two raised over $18,000 during their year, hosting 13 events for 17 different organizations and traveled the northwest, from Bend to Salem, from Boise to Lincoln City, to Eugene and Vancouver, sometimes stopping by more then one city for multiple events in one day to represent and support the Imperial Court's of Oregon.
Shortly after his reign as Mr. Gay Oregon 2009 was completed, Jonathan received news that he was now in the advance stages of AIDS and was given six months to live. After taking some time to focus on his health and start antiviral medications, Jonathan again became quickly involved in serving the HIV/AIDS community by speaking in area classrooms and universities about living with HIV/AIDS, by walking in Portland AIDS Walk where he was one of three top fundraisers in 2010 and in creating the Northwest AIDS Memorial online project (www.facebook.com/northwestAIDSmemorial). In 2011, Jonathan and his partner were included in the national "A Day With HIV in America" photo campaign which was published in Positively Aware magazine. Their image and story was included as part of the national advertising material for "A Day With HIV in America" and was reprinted in several national magazines, newspapers, websites and a traveling exhibit at the International Conference on AIDS.
When not raising awareness for HIV/AIDS and planning his annual "Red Ribbon Show", Jonathan works for PQ Monthly as the Salem advertising sales consultant, and operates the "Gay in Salem" Facebook page (www.facebook.com/GayinSalem) which he started in 2007 to connect the Salem GLBTQ community to area events, news, businesses and organizations.
Jonathan has received two Humanitarian Awards for his efforts and dedication to GLBTQ issues (the 2009 Mama Bernice Humanitarian Award in Portland and the 2012 Brian Baker Lateis Humanitarian Award in Salem), but he is also very proud of receiving a "Queer Hero Northwest" Award as a "Hero of Tomorrow" for he hopes to be an active part of the generation that ends AIDS and sees marriage equality as a reality nationwide in his lifetime.
Q Center and the Gay & Lesbian Archives of the Pacific Northwest (GLAPN) have partnered on an annual multi-media celebration of LGBTQ pioneers and leaders from our local movement called Queer Heroes NW!
The project features a new queer hero (nominated by the greater LGBTQ community) every day online during Pride month (June). The 30 queer heroes are also featured on the walls of the Aaron Hall Gallery at Q Center for the months of June and July, as well as in Q Center's Pride booths all over the region.
After Pride is over each year the portable display hits the road and makes the rounds all over community centers, schools, churches, and businesses in the Pacific NW! Help us honor our queer heroes by spreading the word.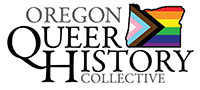 Copyright ©2015 • Gay & Lesbian Archives of the Pacific Northwest