Queer Heroes NW 2013
Sasha Buchert
Many people in Portland's LGBTQ community know Sasha Buchert from her comunity activities. Others will recognize her voice from the Outloud program she co-hosts on KBOO radio. A transgender woman, Sasha has been active in a broad range of lesbian, gay, bisexual, and transgender (LGBT) rights activities statewide for several years.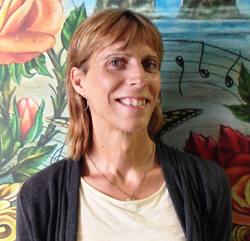 Since March of 2011, Sasha had been the Communi-cations Manager for Basic Rights Oregon (BRO), the primary organization working to ensure equality for LGBT Oregonians.  There she uses various social media platforms to promote LGBT and coalition partner events.  She works on racial justice and marriage equality, but is especially involved in transgender justice.   
Sasha states that the most significant moment for her occurred when BRO won fully inclusive and medically necessary transition related health care for transgender workers at the City of Portland. "The Mayor and the City Council unanimously approved the change in health care in front of a raucous crowd of supporters. It sent chills down my spine and made me proud to be involved with BRO."

Sasha's efforts have been recognized by the state of Oregon, which appointed her to the Oregon State Hospital Advisory Board.  That makes her a trailblazer, since she is the first openly transgender Oregonian appointed to any state board.  Sasha is also an attorney, and is a board member of OGALLA, the LGBT Bar Association of Oregon.
On July 8, 2013, Sasha got a new job! The Transgender Law Center, based in San Francisco, announced that she had accepted the position of Staff Attorney with their organization.
Q Center and the Gay & Lesbian Archives of the Pacific Northwest (GLAPN) have partnered on an annual multi-media celebration of LGBTQ pioneers and leaders from our local movement called Queer Heroes NW!
The project features a new queer hero (nominated by the greater LGBTQ community) every day online during Pride month (June). The 30 queer heroes are also featured on the walls of the Aaron Hall Gallery at Q Center for the months of June and July, as well as in Q Center's Pride booths all over the region.
After Pride is over each year the portable display hits the road and makes the rounds all over community centers, schools, churches, and businesses in the Pacific NW! Help us honor our queer heroes by spreading the word.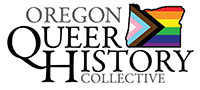 Copyright ©2015 • Gay & Lesbian Archives of the Pacific Northwest