Queer Heroes NW 2013
Thomas Lauderdale
Photo of Thomas Lauderdale is courtesy of Autumn deWilde.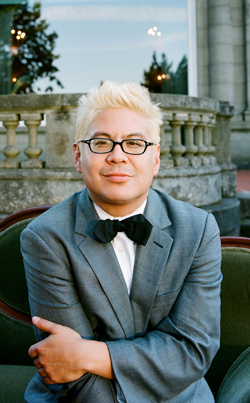 Thomas Lauderdale could serve as the prototype for "The New Generation of Queer People."
The now-famous leader of the band Pink Martini, Thomas was born in 1970. A child prodigy at the piano keyboard, he performed with the Oregon Symphony and the Portland Gay Men's Chorus at the age of 15.
He graduated from Portland's Grant High School as student body president and editorial editor of the Grantonian.
Thomas graduated Cum Laude from Harvard University where he also served as president of Harvard's Gay and Lesbian Caucus.
He comes from a 'blended' mix-race family with a gay father, Kerby, who served as President/General Manager of the Portland Gay Men's Chorus and who remains the first and only openly gay minister in the Church of the Brethren.
Despite his global fame, Thomas has remained deeply committed to progressive causes in Portland, especially the environment, affordable housing, civil rights, libraries, and public broadcasting. He remains a perfect example of a young proud gay man who has prospered, yet never forgotten his roots or flagged in his passion for service to queer people everywhere.
Q Center and the Gay & Lesbian Archives of the Pacific Northwest (GLAPN) have partnered on an annual multi-media celebration of LGBTQ pioneers and leaders from our local movement called Queer Heroes NW!
The project features a new queer hero (nominated by the greater LGBTQ community) every day online during Pride month (June). The 30 queer heroes are also featured on the walls of the Aaron Hall Gallery at Q Center for the months of June and July, as well as in Q Center's Pride booths all over the region.
After Pride is over each year the portable display hits the road and makes the rounds all over community centers, schools, churches, and businesses in the Pacific NW! Help us honor our queer heroes by spreading the word.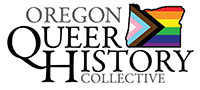 Copyright ©2015 • Gay & Lesbian Archives of the Pacific Northwest