Queer Heroes NW 2013
Mary Beth Brindley and Evelyn Hall.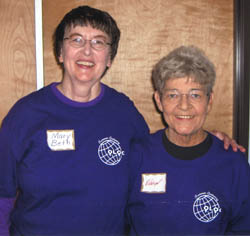 For most of their time together, Mary Beth and Evelyn lived in the closet. After all, they were in Texas and that seemed the prudent thing to do. But when they moved to Portland in 1996, they were determined to live their lives in the open. And boy, did they ever live in the open. They joined many groups and Mary Beth was one of the founders of Portland's chapter of Old Lesbians Organizing for Change. They attended WNBA Portland Fire games while wearing matching shirts and went to practically all of Portland's Gay Men's Chorus programs.
Even though they were "out and proud," they knew there was work still to be done for gay rights. The issue closest to their hearts was senior housing. After watching a friend go back into the closet when he moved into a retirement home, Mary Beth and Evelyn knew something had to be done. They joined other seniors and founded Senior Housing and Retirement Enterprises (SHARE). They raised the issue of gays wanting to feel safe in retirement homes. Safe and free to be who they are. No going back into the closet.
When Evelyn died in 2008, Mary Beth lost the love of her life and partner of 49 years. And Portland lost a hero. Today, Mary Beth carries on with SHARE, Gay and Gray -- anyway she can to make sure that elders never have to go back into the closet.
Q Center and the Gay & Lesbian Archives of the Pacific Northwest (GLAPN) have partnered on an annual multi-media celebration of LGBTQ pioneers and leaders from our local movement called Queer Heroes NW!
The project features a new queer hero (nominated by the greater LGBTQ community) every day online during Pride month (June). The 30 queer heroes are also featured on the walls of the Aaron Hall Gallery at Q Center for the months of June and July, as well as in Q Center's Pride booths all over the region.
After Pride is over each year the portable display hits the road and makes the rounds all over community centers, schools, churches, and businesses in the Pacific NW! Help us honor our queer heroes by spreading the word.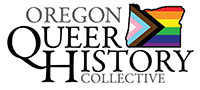 Copyright ©2015 • Gay & Lesbian Archives of the Pacific Northwest