Queer Heroes NW 2013
Linda Brown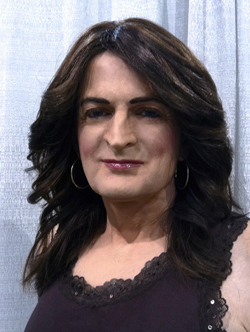 Linda Brown has been active in the Northwest Gender Alliance for 10 years, serving as Public Relations Director for over six years. In 2007, Linda received the NWGA Roni Lang Service Award. She has worked to reinvigorate the NWGA Speakers Bureau, educating groups and organizations on "what it is to be transgender." As she has come out as transgender to old friends, politicians and community leaders, she has become a strong advocate for transgender people and the LGBT community, as a whole.
Politics and community outreach are two of Linda's favorite areas of interest. As a dedicated champion for equal rights for the LGBT community, Linda has volunteered on local and state-wide political races and ballot-measure campaigns, primarily with the Democratic Party of Oregon and Basic Rights Oregon.
In recent years, Linda has taken a significant leadership role with the Human Rights Campaign, representing Oregon and Southwest Washington as a member of HRC's National Board of Governors and the National Diversity and Inclusion Committee. As a member of HRC Portland's Steering Committee, Linda has served as Political and Community Outreach Co-Chair for the HRC Portland Steering Committee. At HRC's 2013 National Equality Convention, Linda was honored as "Diversity and Inclusion Leader of the Year." In addition, Portland was named as the top Political and Community Outreach Committee in the country.
Linda Brown is proud to be a native Oregonian, as well as the only transgendered blueberry farmer in the Pacific Northwest. Linda and her wife Marcia operate a "sustainable-practices" farm near Boring, Oregon. Linda knows she would not be where she is today without the support of Marcia. Looking back at her struggles and accomplishments, Linda's motto has become "Never say never," as she has found happiness in places where one might least expect it to be.
Q Center and the Gay & Lesbian Archives of the Pacific Northwest (GLAPN) have partnered on an annual multi-media celebration of LGBTQ pioneers and leaders from our local movement called Queer Heroes NW!
The project features a new queer hero (nominated by the greater LGBTQ community) every day online during Pride month (June). The 30 queer heroes are also featured on the walls of the Aaron Hall Gallery at Q Center for the months of June and July, as well as in Q Center's Pride booths all over the region.
After Pride is over each year the portable display hits the road and makes the rounds all over community centers, schools, churches, and businesses in the Pacific NW! Help us honor our queer heroes by spreading the word.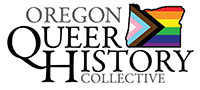 Copyright ©2015 • Gay & Lesbian Archives of the Pacific Northwest