Queer Heroes NW 2013
Sassafras Lowrey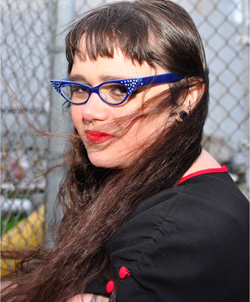 Sassafras Lowrey, a formerly homeless queer youth who grew up at the Sexual Minorities Youth Resource Center (SMYRC) after being kicked out of hir semi-rural Clackamas County home, has done amazing work for queer youth in Portland and everywhere. Ze got hir start writing as a punk zinester in Portland, is an internationally award-winning storyteller, author, artist, and educator. Ze is the editor of the two-time, American Library Association honored & Lambda Literary Finalist Kicked Out anthology, and the BDSM fairy tale retellings anthology, Leather Ever After. Hir debut novel Roving Pack was honored by the American Library Association and chronicles the underground lives of gender-radical queer youth searching for identity, community, and belonging. Sassafras has contributed to numerous anthologies and publications, and ze believes storytelling is essential in the creation of social change. Most recently, ze is the 2013 winner of the Lambda Literary Foundation's Berzon Emerging Writer Award.
Earlier this year, ze accepted the invitation from SMYRC to keynote Oregon's Queer Youth Summit, which ze helped found in 2003:
"SMYRC literally raised me, and saved me up. I'm where I am today because of the connections and relationships I made at SMYRC, and because of the skills I developed there as a member of the youth steering committee, and as a bridge 13 community trainer. SMYRC is where I learned how to be a community organizer and an activist, not in any classroom. SMYRC is where I gained the confidence to call myself a writer and created the space for me to seriously begin the journey to where I am today. Whenever I meet people who start talking about the great friendships/relationships/experiences they had in high school or college, I think of SMYRC. While I had those educational experiences, neither of them defined me in the way that SMYRC did, and still does. It was the first place where I met other homeless youth, and together we built families that exist to this day. SMYRC was not your average youth center, it is where I learned about BDSM/Leather and learned about the kind of relationship dynamics that were possible."
Sassafras lives and writes in Brooklyn with hir partner, two dogs of dramatically different sizes, and two bossy cats. Ze is an amazing inspiration to local queer youth of the 1990s, 2000s, and today. We thank you from the bottom of our queer hearts, Sassafras – we know we can survive whatever the LGBTQ-hating adult world can throw at us, because you did.
Q Center and the Gay & Lesbian Archives of the Pacific Northwest (GLAPN) have partnered on an annual multi-media celebration of LGBTQ pioneers and leaders from our local movement called Queer Heroes NW!
The project features a new queer hero (nominated by the greater LGBTQ community) every day online during Pride month (June). The 30 queer heroes are also featured on the walls of the Aaron Hall Gallery at Q Center for the months of June and July, as well as in Q Center's Pride booths all over the region.
After Pride is over each year the portable display hits the road and makes the rounds all over community centers, schools, churches, and businesses in the Pacific NW! Help us honor our queer heroes by spreading the word.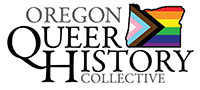 Copyright ©2015 • Gay & Lesbian Archives of the Pacific Northwest