Queer Heroes NW 2013
Portland Gay Men's Chorus
Portland Lesbian Choir
Confluence
Soromundi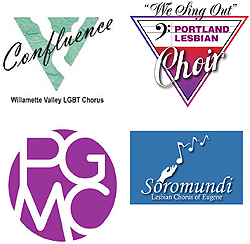 The choral organizations that grew out of Oregon's LGBTQ movement came bearing the gift of music at a time when the rest of the movement was picketing, petitioning, or lecturing – and have gotten to places that politics couldn't reach.
They do a brilliant job of putting a human face on sexual minority people by building bridges between them and the general community. Without being directly political, they help build resources in rural areas by singing in every corner of the state.
These choruses were a mainstay during the toughest years of the HIV pandemic, providing seed money for community services multiple times.
They make a significant difference for the thousands of people who have effectively 'come out' by joining these communities of song.
They also built bridges between genders and race within the LGBTQ population, strengthening our sense of community, and allowing allies to take a stand in a powerful, personal way while enjoying the experience of a secular performing chorus.
All of the members who have shown up and rehearsed, gone out and performed, or worked in the background to make it happen, deserve standing among the Queer Heroes Northwest.
Q Center and the Gay & Lesbian Archives of the Pacific Northwest (GLAPN) have partnered on an annual multi-media celebration of LGBTQ pioneers and leaders from our local movement called Queer Heroes NW!
The project features a new queer hero (nominated by the greater LGBTQ community) every day online during Pride month (June). The 30 queer heroes are also featured on the walls of the Aaron Hall Gallery at Q Center for the months of June and July, as well as in Q Center's Pride booths all over the region.
After Pride is over each year the portable display hits the road and makes the rounds all over community centers, schools, churches, and businesses in the Pacific NW! Help us honor our queer heroes by spreading the word.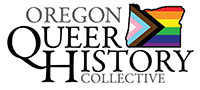 Copyright ©2015 • Gay & Lesbian Archives of the Pacific Northwest