Queer Heroes NW 2013
Pam Monette
Pam Monette has been humbly behind the scenes in Portland's queer community for decades, in more organizations than most Portlanders can remember, let alone list.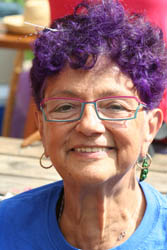 She started out as a bartender at Tasha's and moved on to be a bouncer and spotlight operator at Darcelle XV.
Pam went to work with Helen's Pacific Costumers in the early 70s and became the owner in the early 90s. Her generosity was memorable among local nonprofits.   
She served as the Board President of the Lesbian Community Project, keeping it going after internal conflict nearly ruined it. She served as the Board President of Love Makes a Family with Bonnie Tinker.  
Pam served the Portland Police on behalf of queers on the Sexual Minorities Round Table, and works with the Portland Police Sexual Minority Crisis Response Team doing emergency response for victims of hate crimes and domestic violence and with Multnomah County District Attorney as a Rape Victim Advocate.   
She has teamed with three other women for 15 years to continue Women in the Woods, a late summer gathering of 100 lesbians at Breitenbush Hot Springs.  
She is involved in the queer AA communities, the deaf community and the Native American community.
We're proud to recognize Pam Monette among the Northwest's Queer Heroes.   
Q Center and the Gay & Lesbian Archives of the Pacific Northwest (GLAPN) have partnered on an annual multi-media celebration of LGBTQ pioneers and leaders from our local movement called Queer Heroes NW!
The project features a new queer hero (nominated by the greater LGBTQ community) every day online during Pride month (June). The 30 queer heroes are also featured on the walls of the Aaron Hall Gallery at Q Center for the months of June and July, as well as in Q Center's Pride booths all over the region.
After Pride is over each year the portable display hits the road and makes the rounds all over community centers, schools, churches, and businesses in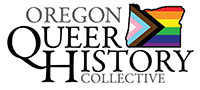 Copyright ©2015 • Gay & Lesbian Archives of the Pacific Northwest