Queer Heroes NW 2012
Amari Fauna
Chloe Flora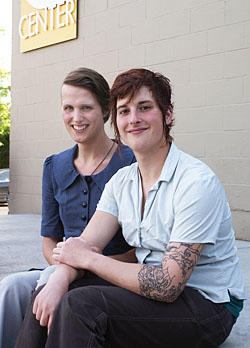 That's Amari on the left, and Chloe on the right.
Amari and Chloe are the pioneers of Q Center's TransFem* group as well as the Trans Life programs and the Communi-T Trans Resource Fair at Q Center.
They have day jobs. For the past four years, they have also taken major responsibility for programming at Q Center for the Trans community. Aside from support for individuals in transition, they have produced training for the professional community in trans cultural issues, and they are especially focused on developing competent and respectful medical care for members of their community.
After four years, they think they're seeing some progress. Recently, other people have lent their energy to the ongoing groups at Q Center. Other organizations in town are developing training programs for those who deal with the trans community.
The event they pioneered, Communi-T: Portland's Trans Resource Fair, is gaining momentum. It brings together providers to network, get some training, and then meet the public in a non-clinical setting. Two hundred people attended the last event, and a couple of dozen organizations presented exhibits. It appears that a young, trans community is developing, where there was none.
Will they ever work themselves out of a job? They look at each other. Maybe. But not any time soon.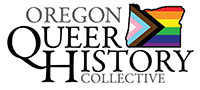 P.O. Box 3646 • Portland, OR 97208-3646 • info@glapn.or
Copyright © 2015, Gay & Lesbian Archives of the Pacific Northwest