Queer Heroes NW 2012
Lady Elaine Peacock
(Elwood "Woody" Johnson)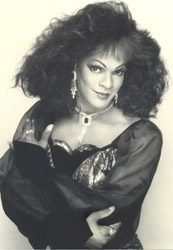 Lady Elaine Peacock was a role model, titleholder, entrepreneur, philanthropist, drag queen. Celebrated for her beauty, talent, fundraising and networking skills, Peacock reigned as Rosebud IV, Princess XIII, Rose Empress XXIX, LaFemme Magnifique Oregon and International.
Peacock was the founder of Peacock in the Park, a summertime spectacular drawing thousands to the Amphitheatre of Washington Park for a family friendly, LGBTQ variety show. The show ran from 1987 to 2004 and was the primary fundraiser for the Audria M. Edwards Scholarship Fund, established in memory of Lady Elaine Peacock's Mother. The AME Fund is dedicated to post-secondary education for the LGBTQ community of Oregon and Southwest Washington.
Peacock and her husband Ray Southwick owned Peacock Services flower delivery and founded the Alternative Connection, an LGBTQ newspaper in 1991. The AC thrived under Peacock's creative direction until her death due to complications from HIV/AIDS on October 27, 1993.
At Peacock's request, administration of Peacock in the Park and the AME Fund were turned over to Maria Council and Kimberlee Van Patten. Nearly 20 years following her death, Lady Elaine Peacock's legacy lives on through the work of Peacock Productions, Inc., the Audria M. Edwards Scholarship Fund and the wildly popular Peacock After Dark at the Portland Center for the Performing Arts.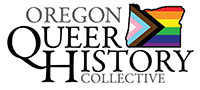 P.O. Box 3646 • Portland, OR 97208-3646 • info@glapn.or
Copyright © 2015, Gay & Lesbian Archives of the Pacific Northwest