Queer Heroes NW 2012
Elizabeth Anne Harbaugh
(1927 - 1999)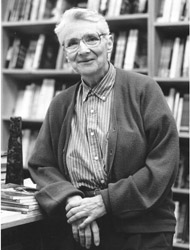 Izzie Harbaugh was a lesbian feminist hero. She grew up poor in Appalachia and was often hungry. As a teenager, she didn't fit in and ran away, getting jobs as a telephone operator, a fast food preparer, in a Pittsburgh steel mill, and in the army during the Korean War. Sometimes she was homeless. She went to college in her thirties. During the Vietnam War, she worked at a San Francisco bank while being active in the War Resisters' League.
From 1981 – 1999, she was manager of Mother Kali's Books in Eugene, a bookstore and referral / meeting / organizing center for feminist, lesbian, gay, and politically progressive issues. Izzie kept the store alive, working long hours, befriending the friendless; a match-maker connecting women with books, events, groups, ideas, friends, lovers. Women would present themselves to her when they were ready to come out, or had problems, personal or political. She engaged each with respect, and challenged each to be more than they had been before. She educated and organized about issues such as environmental causes of cancer and the importance of small presses and independent bookstores to the preservation of free speech. She worked with street youth. She facilitated dialogue between lesbian / gay communities and conservative Christian groups. She was on the national board of Old Lesbians Organizing for Change. And much more.
She received the Harvey Milk Award in 1991 and Pride Achievement Award in 1997. She was an ardent feminist, environmentalist, activist, booklover, and organic gardener.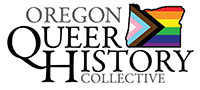 P.O. Box 3646 • Portland, OR 97208-3646 • info@glapn.or
Copyright © 2015, Gay & Lesbian Archives of the Pacific Northwest