Queer Heroes NW 2012
Bonnie Jeanne Tinker
May 26, 1948 – July 2, 2009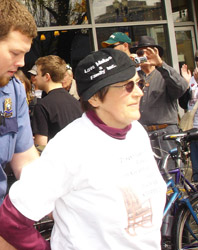 Bonnie Tinker relentlessly pursued justice throughout her lifetime. Her family became famous for the Viet Nam era landmark black arm band Supreme Court case Tinker v. Des Moines School Board, reaffirming students' rights of free speech.
After college, Bonnie and four classmates moved to Portland where they founded the Red Emma collective. Red Emma and friends organized the first free women's health clinic in Portland and established Prescott House, a shelter for women coping with violence on the streets. Under Bonnie's leadership, Prescott House evolved into Bradley-Angle House, one of the first shelters for battered women in the country. She served as founding director (1975-1979). She was also the first chairperson of the National Coalition against Domestic Violence.
Always advocating for her multi-racial, non-traditional family, Bonnie created a 1992 slide show called Love Makes a Family, with assistance from the Society of Friends. Love Makes a Family became a non-profit supporting parents and children in lesbian, gay, bi, transgendered and queer families. Bonnie told her story and others' through writing, speeches, workshops, and talk radio. She was an active community organizer during the anti-LGBT ballot measure campaigns, especially welcoming interactions with the opposition.
A tireless peacemaker and a lifelong pacifist, Bonnie belonged to the Seriously Pissed off Grannies and was arrested for protesting military recruiting. She was killed by a large truck while riding her bicycle at a national Quaker conference where she presented Opening Hearts and Minds, her workshop on using non-violent speech for
social change.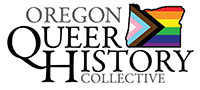 P.O. Box 3646 • Portland, OR 97208-3646 • info@glapn.or
Copyright © 2015, Gay & Lesbian Archives of the Pacific Northwest