Queer Heroes NW 2012
Dr. Mary Ann Humphrey-Keever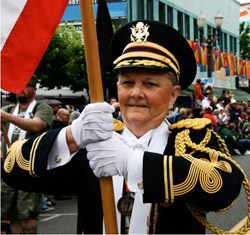 For 20 years, Dr. Mary Ann Humphrey-Keever has proudly carried the American flag during Portland's Pride Parade. She was an officer in the U.S. Army Reserves with an excellent record of service, but was discharged when the military learned she was a lesbian.
She is the author of My Country, My Right To Serve: Experiences of Gay Men and Women in the Military, World War II to the Present (1990). She interviewed over 200 people for the book.
She saw the need for a local veterans group that welcomed gays and lesbians and co-founded Veterans for Human Rights. In 1993, she attended the March on Washington and led over 2,000 gay and lesbian veterans during the march and demonstration.
Aside from her activism around gay issues and the military, she has been involved with the Imperial Sovereign Rose Court and has always supported gay-rights groups such as Right to Privacy.
Mary Ann was hired as the first full-time women's coach for basketball, softball and volleyball at Portland Community College. Her students know that she is gay and she continues to be a positive role model in all of her endeavors.
Photo by Pat Young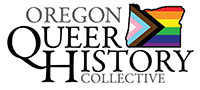 P.O. Box 3646 • Portland, OR 97208-3646 • info@glapn.or
Copyright © 2015, Gay & Lesbian Archives of the Pacific Northwest