Queer Heroes NW 2012

Parents and Friends of Lesbians and Gays (PFLAG)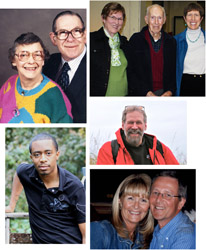 PFLAG is a beacon of love and hope in the history of the queer community. It's simple: parents and friends gather to support their kids, and each other. But it's not without risk. PFLAG parents regularly challenge laws, school regulations, religious tradition, and community expectation to get a fair shake for their kids.
For the 2012 Queer Heroes NW project, everybody on this page was nominated at least once for one of the Hero positions. We put them all together for one day of PRIDE, and condensed their biographies to fit on a single poster! Limitations of space don't apply on the Internet, so we're providing the full text that came with each nomination, below. Every founder of PFLAG deals with community resistance and institutionalized discrimination, and they are all heroes for what they put up with, and the contributions they make to our community.
This is a long section. Click on the thumbnails below to read a particular biography, or scroll down to read them one at a time.
Ann & Bill
Shepherd

Rita &
Charles Knapp

Vickie &
Lonnie Read

Khalil Edwards

Dan
Beck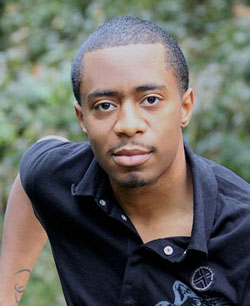 Khalil Edwards: Khalil was born and raised in Portland, OR. A proud member of the LGBT community here in Portland, OR, he has volunteered and supported Basic Rights Oregon and other local organizations in their efforts toward LGBTQ equality and fighting injustice for many years.
Khalil's passion for education and strong belief that knowledge is power led him to become a teacher. Upon receiving his Master's Degree from Portland State University's Graduate Teacher Education Program in 2004, he moved to Southern California where he taught Middle School and High School English for three years.
In 2007, he made his way back to Portland. Since being back in Portland, he has been involved in health equity for all Oregonians and working to improve the lives of Black LGBTQ in our community. He is excited about all the things happening around social justice in Oregon and fortunate to be a part of it. In addition to joining the team at Basic Rights Oregon as the new Racial Justice Fellow, he is also the Coordinator for the Black Chapter of PFLAG Portland.
An avid Robert Jordan fan and karaoke enthusiast, on his down time from work and volunteer commitments you can usually find him with a book or mic in his hands.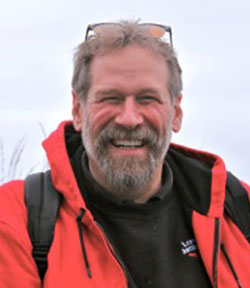 Dan Beck: Dan Beck has worked for 20 years in the queer community on the rural Oregon Coast, known for isolation and lack of health, social, or recreational services. Among dozens of other accomplishments, he participated in founding the first PFLAG chapter on the Oregon Coast. Since then, three more chapters have been created.
Dan is the founder and director of Coastal AIDS Network for over 20 years on the rural Oregon Coast, known for isolation and lack of health, social, or recreational services available. Dan has provided all of these for hundreds of men as well as testing and counseling, finding housing and necessary services, and weekly gatherings to keep "his guys" together and healthy. He travels over a hundred miles on slow roads from Tillamook to Yachats to check on his guys and to help them make positive and healthy choices. He works with all the local agencies to represent the needs of gay men, he teaches HIV awareness and prevention to high school students and adults in the community, and he keeps doing it, year after year.
Dan was among the founders of the LGBT Task Force in Lincoln County that established the first PFLAG chapter on the Oregon Coast. (Thanks to hard work and good outreach, there are now four PFLAG chapters in these rural areas.) The LGBT Task Force also supported the start-up of GSA groups, an LGBT Teen Lunch support group, the school district's adoption of the excellent Olweus Bully Prevention Program.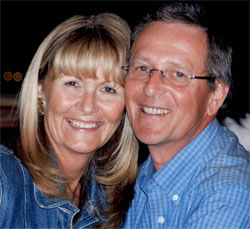 Vickie and Lonnie Read: The Reads brought PFLAG to Eastern Oregon: Pendleton & LaGrande. This couple uses their organizational talents and their stature in the community to make conservative Eastern Oregon a better place for queer kids and their parents.
A native of Eastern Oregon, Vickie Read grew up in a small logging camp and had been raised with "a value system that did not include diversity or equality." Therefore, when her son came out in his junior year of high school, Vickie's immediate response was to ask him to change. With many gay friends and acquaintances, Lonnie Read "not only tried to comfort his son but he tried to help me understand that this was not something our son could change." But all it took was for their son to "look at me with his big serious brown eyes and say, 'Mom, why would I choose to be something people hate?', and I knew... I was the one who needed to change."
Vickie and Lonnie are "members of the PFLAG State Council (Parents, Families and Friends of Lesbians and Gays) and President and Treasurer of our own local PFLAG chapter." But their dedication to equality for all Oregonians does not stop there. As a local business owner, Lonnie is supportive of the Pendleton GLBT community, and as a school counselor, Vickie is working towards a safer school environment for GLBT students and "hope[s] this next year to start our first GSA [Gay-Straight Alliance]." They are also quite active politically, lobbying for pro-equality legislation and using their voices in their local paper, via letters to the editor and guest editorials, to refute those speaking out against the pro-equaity legislation or the legislators who voted for it.
Vickie and Lonnie hope for a day when all Oregonians, GLBT and not, enjoy the same relationship recognition. They reflect: "Our ultimate goal is that it will not be illegal for our son to have the same marriage rights as his sister. If that means everyone should be able to get married than that's the way it should be. If it means that his sister has a civil ceremony like her gay brother than that's the way it should be. Any questions?"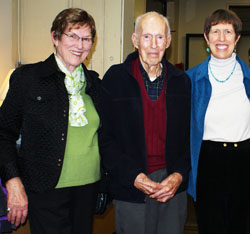 Rita and Charles Knapp: The Knapp family is central to the post-Stonewall queer community in Oregon.
Charles Knapp, a minister in the United Church of Christ, and his wife Rita, were co-founders of Parents of Gays, the predecessor to PFLAG (Parents and Friends of Lesbians and Gays) in Portland in the early 1970s, along with Ann and Bill Shepherd. They are pictured at right with their daughter, Kristan, in 2010.
Rita Knapp is famous in queer circles for her eloquent address in 1973 to the Oregon House Committee which was receiving public input on HB 2930, the first Oregon statewide bill that would ban employment and housing discrimination based on sexual orientation. Her address began, "I am the parent of a gay woman … " It was the first time a parent had spoken for a gay child in a public meeting where the press was present.

Her speech lasted just a few minutes. But her words in support of her lesbian daughter were so moving and sincere that they would become the Gettysburg Address of parents who love their gay children.
Rita had come to know her daughter's friends as socially conscious, intelligent, educated, warm and happy persons. She continued, "People must recognize that everyone has the right to be free to choose the life style he [or she] wishes. We of the establishment must disengage ourselves from myths and vague fears." ("Homosexual issue argued in the House", Oregonian, 5-3-1973).
The crowd could not hold back after hearing Rita's words, and burst into a thunderous ovation. Not expecting this, in the process of rising from her chair, Rita knocked over the microphone.
At that time, few gay people were out to straight people, unless it was to their closest friends. The vast majority, fearing rejection, probably kept it secret from their families. Parents of gay children were supposed to be ashamed of their kids. Wasn't that a shortcoming of their parenting? And even if they were not ashamed, they certainly would not talk about it in public.
But here for the first time, an Oregonian spoke in support of her gay daughter in a very public meeting where the press was present. Rita's testimony was the lead paragraph in the Oregonian article about the hearing. The first sentence of the Oregonian article read "A mother spoke." The letters before that – "AP" -- indicated that Rita's story would go over the wires throughout the country through the Associated Press.
In the subsequent years, the Knapps worked with a number of organization promoting LGBT equality and acceptance. For instance, they campaigned against the very anti-gay Ballot Measure 9. They were members of the Portland's First Congregational Church, the United Church of Christ. UCC's national organization had already been promoting the acceptance of gays for a couple of decades. As moderator for his local church from 1991 to 1992, Charles led his led First Congregational in becoming open and affirming of LGBT people.
But perhaps the Knapps are best known for their contributions to Parents and Friends of Lesbians and Gays (PFLAG). Several years after Rita addressed the legislative hearing, Rita and her husband Charles teamed up with another couple named Ann and Bill Shepherd to found what is today called PFLAG Portland. The Shepherds had a gay daughter named Susie.
Charles and Rita Knapp both passed away in 2013, and their children created a website to tell their stories. Visit this link to read more about the lives of Charles & Rita.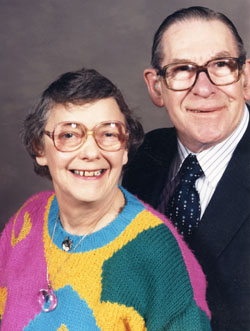 The late Ann and Bill Shepherd started educating themselves, and looking for ways to be helpful, after their daughter, Susie, came out to them in 1971. Local newspapers wouldn't even allow them to advertise "Parents of Gays" until 1975, and after that, Ann Shepherd's phone never stopped ringing with pleas for help.
Susie Shepherd provided this account:
When I came home from the University of Oregon for Christmas break 1971 and told mom and dad that I needed to talk with them about something "really important," I had no idea that would end up being a defining moment for the entire family. That's when I came out to my parents.
For a year, there were only two people with whom mother discussed this—her sister and her pastor. A year later, Del Lyon and Phyllis Martin published Lesbian/Woman, and finally there was something positive to hand mother to read, which she in turn would digest and condense for daddy, whose busy law practice and involvement in First Presbyterian Church left little time for pleasure reading.
During the 1973 Oregon legislative session, George Nicola talked Rita Knapp into testifying on the need for an omnibus civil rights bill, prohibiting discrimination on the basis of sexual orientation. Mother came out to Rita about me and asked how she could help. In the spring of 1975, it was mother who testified before the Oregon legislature as the mother of a gay daughter and of the need of all her daughters to have equal civil rights.
By this time, Portland Town Council founder and gay rights activist Larry Copeland had tapped mother for membership on Governor Straub's Task Force on Sexual Preference. The Governor charged the task force to meet monthly and report to the 1977 legislature as to the degree of discrimination on the basis of sexual orientation throughout the state of Oregon. One of the findings of the committee was the need for a parents' support group, and Parents of Gays began in mother and dad's living room, meeting monthly with the Knapps and anyone else they could get. For a long time, it was impossible to get word out about the group. Mother, a newspaper reporter -turned community activist, tried repeatedly to put classified ads in the Oregon Journal, where she had worked, and The Oregonian. "Oh, Ann---you KNOW we can't print THAT kind of an ad! We're a FAMILY paper!" But mother persisted.
In spring 1977, two huge breaks opened a tidal wave of interest in Parents of Gays— the live Sunday television show "Town Hall" in May 1977 on the topic of homosexuality. Mom and dad's phone number ran on the screen and was repeated by the host, and within hours, their phone was ringing off the hook—never to stop, not even after mother's stroke in 2000. The other was Jann Mitchell's interview for the Journal, which was published on June 25, 1977, to coincide with Gay Pride Day.
By this time, I was living back at home, working for daddy's small law firm, and every night at the dinner table was gay rights night. It was a fantastic, energizing time to be alive and living with the most blessed parents a gay person could ever dream of having. Sanford Director, Portland's late and very great Gay Mayor and philanthropist, lived up the hill and around the corner from the Shepherds, and between those two households, policy was made and ideas born that would shape the future of Oregon gay politics for years to come.
Mother utilized all her newspaper interviewing skills in talking to the scores of distraught parents who called at all hours, and to the gays of ALL ages who called for every thing from suicide prevention to how to come out to their parents to how to come out to their own children. The son of one prominent Portlander spend most of one summer taking comfort at mother's kitchen table, after overhearing his own parents' discussions to have him lobotomized for being gay. The last phone call I remember hearing about mother getting was in late 2001, when she accepted charges for a collect call from a young gay man in Nova Scotia, who had been handed her phone number on a wrinkled old piece of paper that had made its way from person to person to person, and he wanted to know if there was a PFLAG chapter up there.
It was not until long after both mom and dad had gone to their Great Reward that I learned from Isaac that mom and dad worked diligently to protect me from the death threats and other intimidation they received, especially after the Town Hall airing and Journal front page feature. Isaac has since told me that mom and dad banned him from answering the phone for about six months, so that he would not have to take any more threats to burn crosses in front of their house, kill them and and kill all members of our family.
Mom and dad's legacy lives on through the Bill & Ann Shepherd Legal Scholarship Fund of Equity Foundation, which helps students in their last year of law school who are committed to continuing mom and dad's battles on behalf of sexual minorities. In its first 17 years, the fund donated over $115,000 to law students who are now making headlines of their own on behalf of sexual minorities and other oppressed minorities.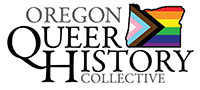 P.O. Box 3646 • Portland, OR 97208-3646 • info@glapn.or
Copyright © 2015, Gay & Lesbian Archives of the Pacific Northwest