THE VICE CLIQUE SCANDAL OF 1912-1913
By George Painter, GLAPN Community Historian
This article is a short summary of material covered in greater depth in George Painters book The Vice Clique, Portland's Great Sex Scandal, which was published in 2013. For more information about the book, including information on how to purchase it, visit this link.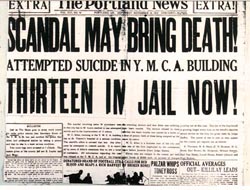 In November 1912, Portland became enmeshed in a same‑sex "scandal" of its own making, the likes of which had not been seen before, nor since. This scandal is frequently misnamed the "YMCA Scandal" because of early, inaccurate news reports that the YMCA was the center of this activity. Other falsities that unfortunately have been accepted as fact over the years are that the scandal involved mostly prominent men, that these prominent men were permitted to flee the city, and that only a single newspaper carried stories about it.

The truth of the scandal:
Following a general anti‑vice campaign beginning in 1911, a volunteer investigator accidentally stumbled across a group of men sexually involved with each other. The man who was the "link" to the rest happened to live at the YMCA. A number of men were arrested. Most Portland newspapers did not see these arrests as newsworthy, although the Oregonian did carry a small article about them.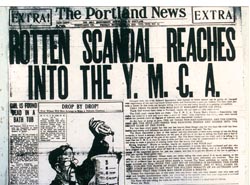 Another, the Portland News, sensationalized the story. On November 15, 1912, it carried a banner headline, "Rotten Scandal Reaches into Y.M.C.A." The News continued with daily stories filled with inaccuracies and innuendo, including that YMCA officials promoted sexual activity within its walls. It was this paper that made the false claims that many prominent men were involved, that they were permitted to leave town, and that other newspapers didn't cover the story. A simple examination of other newspapers shows they began covering it widely once the News sensationalized it. In fact, it was the Oregon Journal that coined the term "Vice Clique" to refer to the group of men, and both the Portland Evening Telegram and the Portland News itself adopted the term. Research has shown that the News sensationalized the story to boost its readership and succeeded in moving from fourth to second place among the four Portland dailies as a result.

Both a local grand jury and a special investigative committee cleared the local YMCA of any involvement, and the News, after initially refusing to do so, bowed to public pressure and ran a retraction of its charges against the institution. It followed this retraction with an unsuccessful threat of career ruination of any attorney who defended any arrestee.

A number of men had been arrested and some faced trial. Some 68 were known to have been involved when all was said and done, but most never faced any courtroom. Some did leave town, some got charges against them dismissed due to weak evidence, and some, because of their age, were viewed as "victims" and thus not prosecuted.

Physician Harry Start and bookkeeper Edward Wedemeyer were tried and convicted in December 1912, and clerk Harry Rowe, the YMCA "link," pleaded guilty. In January, two more men, driver Charles Northern and clerk Roland Orne, pleaded guilty to charges. In February, attorney Edward McAllister was tried and convicted. In March, clerk Herbert King was convicted after a short trial, and restaurant owner Claude Bronner pleaded guilty. Two other trials were not held until the spring. In them, clerk Will Phelps and milliner Dell Meagher both were acquitted by juries. That most of these men held lower‑echelon jobs showed that the Portland News charge that "prominent" men were involved was false.

What happened to those coming to court was not identical. Bronner went to the Oregon Penitentiary. Northern and King got shorter sentences in the Multnomah County Jail. Rowe and Orne were permitted just to leave town, although Orne was required to report monthly on his behavior.

Start, Wedemeyer, and McAllister, each sentenced to the penitentiary, appealed their convictions and got them reversed in 1913 by the Oregon Supreme Court. The reason for reversal was that the trial judges allowed testimony by extraneous witnesses as to their own sexual activity with the defendants. Thus, prejudicial and confusing testimony was allowed in front of jurors.

The 420‑page transcript of Harry Start's trial survives. Reading it, one learns that presiding judge Calvin Gantenbein permitted unfettered testimony by witnesses, meaning that often highly salacious language was used to describe same‑sex sexual activity. Some of the sexual terms mentioned in the trial pre‑date their earliest current known usage according to some dictionaries.

The surviving indictment records also are interesting. Oregon prosecutors followed the ages‑old stereotype that there was no such thing as consensual sodomy, and labeled the older partner (even if just months older) as the perpetrator of an assault and the younger partner (no matter how old) as his "boy victim." If that same "boy victim" had relations with someone else younger than he, then the roles were reversed and the "boy victim" in one case suddenly became the perpetrator of an assault.

A large number of the men involved in the scandal, whether prominent or not, did leave Portland, most of them permanently. Two immediate effects of the scandal were changes to law.

In 1913, the Oregon legislature amended the state's sodomy law to expand its coverage to any conceivable erotic act other than the missionary position and tripled the maximum penalty to 15 years in prison. The expansion of the law was due to the variety of sexual behavior made public in the Vice Clique trials that those with Victorian views had not realized was being expressed.

The second was a law to permit the sexual sterilization of a number of people, including "sexual perverts" and "moral degenerates." This proposal did not survive, however. The same year, a group of people formed the Anti‑Sterilization League and got sufficient signatures to force the measure onto the ballot. In the 1913 election, Oregon voters repealed the sterilization law by a margin of 56%‑44%. During the campaign, virtually all of the rhetoric was directed to "sexual perverts," even though the law covered many more groups. In effect, this was the nation's first Gay rights referendum. Unfortunately, the Oregon legislature did not take this repeal lying down, and enacted a new law in 1917 that continued to be expanded, and these new laws did not face voter scrutiny.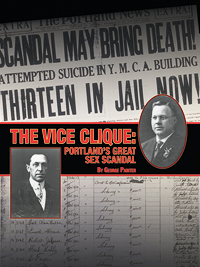 This article is a short summary of material covered in greater depth in George Painters book The Vice Clique, Portland's Great Sex Scandal, which was published in 2013. For more information about the book, including information on how to purchase it, visit this link.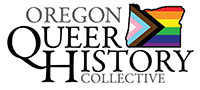 P.O. Box 3646 • Portland, OR 97208-3646 • info@glapn.or
Copyright © 2015, Gay & Lesbian Archives of the Pacific Northwest