OUR STORIES: "Finding Our Voice – the 1970s"
October 23, 2010

Eight pioneers of the gay rights movement in Portland spoke at Q Center on Saturday October 23, 2010, as part of the ongoing series of history forums, "Our Stories".

These distinguished individuals were active in the early days of the "modern" gay rights movement in the 1970s. They worked to advance our civil rights, establish community, and a positive presence for LGBTQ people in Portland. They created social and community organizations and did the early work that led to the establishment of our legal protections.

The women:

Jean DeMaster has been active in the lesbian community since the early 1970's, helping to establish the Women's Resources Center, the Women's Resource Fund, and the Oregon Feminist Federal Credit Union. She was involved with the Gay Women's Caucus in 1972 and in the same year joined those demonstrating to have homosexuality removed from the APA list of mental illnesses. Additionally, she was a co-founder of the Outside In Counseling Center. Jean's Place, a shelter for homeless women, was named for her as she was the director of Transition Projects which assisted homeless men and women for 11 years. Jean is currently Executive Director of Human Solutions, which assists homeless and low income people with housing in Mid and East Multnomah County. She is the recipient of the Advocacy Award from the National Alliance of Children and Families and of the Gretchen Miller Kafoury Award for outstanding lifetime achievement.

Susie Shepherd has been committed to LGBT causes for 35 years. She has been active in the Portland Town Council; has been a board member of Portland Parents, Families and Friends of Lesbians and Gays which her parents cofounded; and was a board member of the Oregon Gay And Lesbian Law Association. Susie has held the titles of Portland Gay Woman of the year in 1978 and 1987; and International Miss Leather in 1989. Susie is the Producer of A Class Act, the annual benefit for the Equity Foundation's Bill and Ann Shepherd Legal Scholarship Fund, named in honor of her parents.

Cindy Cumfer began her involvement in the gay women's liberation/women's community in early 1970s. She was a co-founder of the Gay Women's Caucus, the Women's Resource Center, the Women's Place Bookstore, the Lesbian Community Project, and Basic Rights Oregon, among others. She was one of the first Oregon lawyers to handle domestic partner issues and she acted as attorney for the first same-sex two parent adoption in the U.S. She wrote Living Our Lives, a do-it-yourself book for couples wanting domestic partner agreements, and The Legal Guide for Unmarried Couples in Oregon, which covered all aspects of gay family life. She is currently an attorney who works with nonprofit organizations and co-author of The Oregon Nonprofit Corporation Handbook. Cindy received the Oregon State Bar Membership Service Award in 1996. She is also an adjunct professor at Lewis & Clark Law School and an historian.

Kristan Aspen Knapp was a member of the Red Emma Collective that founded the Portland Feminist Women's Health Center (1971) and with Bonnie Tinker she established Prescott House for women coming out of prison (1973). In a couple of years Prescott House evolved into Bradley-Angle House (1975), the first safe place for women escaping from domestic and sexual violence on the West coast. Kristan has been active as a performer and recording artist in Portland's women's music community for four decades. She often played at the Mt. Moving Cafe with the Ursa Minor Choir (1974-75), toured and played music festivals with the Izquierda Ensemble (1977-80), and toured nationally for 12 years with her partner, Janna MacAuslan, as the Musica Femina Flute-Guitar Duo (1984-1996). Kristan has presented Chautauqua lectures on women's music and culture for the Oregon Council for the Humanities (1987-90). Some of her other activities have included service on the Pride Board (early 1980s and late 1990s), Walk for Love and Justice (1992), and the Conversations Project (1998-99). From 2000 to 2002, Kristan was Director of the Lesbian Community Project. As a music producer, Kristan was active with Women's Energy Productions (late 1970s) and has organized reunions of the Mt. Moving Cafe and Baba Yaga women's jazz band (1997, 1998, and 2010). Rita and Charles Knapp, Kristan's supportive parents, were cofounders, with Ann and Bill Shepherd, of Portland Parents, Families and Friends of Lesbians and Gays.

The men:
John Wilkinson is a pioneer of Portland's gay movement in the struggle for Oregon LGBT equality. His famous newspaper articles in the Willamette Bridge and his subsequent organizing activity in 1970 laid the foundation for the movement, now in its 41st year. John was involved in AIDS prevention activity in California in the early 1980's. In the late 1980's, he was an appointed member of the Seattle Mayor's Lesbian/Gay Task Force. In the 1990's, he and his life partner Dave Davenport co-founded the Legal Marriage Alliance of Washington, now a part of Equal Rights Washington.

George Nicola came out through the Portland Gay Liberation Front in May in 1970. Through the Second Foundation of Oregon in 1973, George lobbied for the first Oregon statewide bill that would ban sexual orientation discrimination in employment and housing. He did a considerable amount of public education work such as speaking to groups, writing for gay newspapers, and getting mainstream newspaper, radio, and television coverage of gay issues. George gained support for gay civil rights from a number of officials who continued their commitment when they were later voted to higher office.

Steve Fulmer joined the Portland gay movement in the early 1970's when he was active with both the Second Foundation and a gay student group at Portland State University. Among his contributions, he was founding President and General Manager of the Portland Gay Men's Chorus, founding chair of Community Health Support Services (which became the service section of Cascade AIDS Project), founding Secretary of Equity Foundation, and a principal founder of the Sexual Minority Committee for Portland Public Schools. He was very active with Citizens Advisory Committees, and the Children, Youth and Family Services Commission for Multnomah County. Steve also helped combat numerous antigay ballot initiatives.

Larry Copeland was a founding member of the Portland Town Council (PTC), one of Portland's earliest gay civil rights groups, in the mid-1970s. He was the PTC office co-coordinator from 1974 to 1976, and a board member from 1976 to 1978. Larry was the first openly gay person in Portland to seek elective office when he ran for City Council in 1982 to raise awareness of gay presence in Portland politics.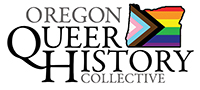 P.O. Box 3646 • Portland, OR 97208-3646 • info@glapn.org
Copyright © 2015, Gay & Lesbian Archives of the Pacific Northwest