Queer Heroes NW 2012
Rev. Cecil Prescod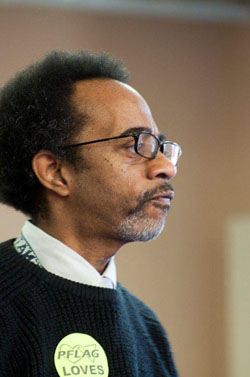 The Rev. Cecil Charles Prescod, an ordained minister in the United Church of Christ and brother in the Order of Corpus Christi, an evangelical Catholic religious order, serves as Director of Christian Education and Youth Ministries at Ainsworth United Church of Christ in Portland.
Cecil has been active in social justice issues since his youth. He first became involved in the lgbt equality movement in 1992 when he helped organize People of Faith Against Bigotry, an interfaith organization that opposed the anti-queer ballot initiative, and began working with Love Makes A Family, Inc. Among the organizations that he has worked with are the Fellowship for Reconciliation, the American Friends Service Committee, Brother to Brother, the Urban League of Portland, and PFLAG-Portland Black Chapter.
In 2002, Cecil was a local co-chair for the NGLTF Creating Change Conference that was held in Portland and received the Russell Peyton Human Rights Award from the Metropolitan Human Rights Center. In 2005, Rev. Prescod was a delegate to the General Synod of the United Church of Christ that voted to become the first mainline Protestant denomination in the United States to support marriage equality. In 2011, Cecil joined hundreds of clergy and faith community leaders from across the country in Washington, DC to advocate and lobby for LGBT justice as part of the Human Rights Campaign Clergy Call for Justice and Equality.
November of 2022, Rev. Prescod wins Gladys McCoy
Lifetime Achievement Award
(Here is the text of the Multnomah County Board of Commissioners news release)
View a video of Cecil's portion of the program at this link.
As an eighth grader, the Rev. Cecil Charles Prescod remembers white adults hurling insults at him and his Black classmates as they were bussed to a Queens, N.Y school. He saw his parents stand fast against such antagonism, organizing Black and sympathetic white parents to advance integration.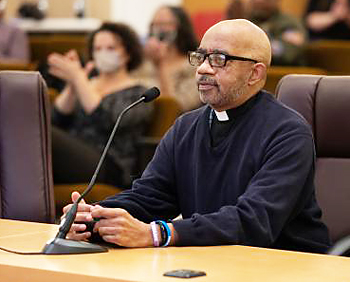 He recalls his maternal grandmother marching their family up to a "Whites only" lunch counter in rural Virginia after the Civil Rights Act of 1964 was signed. Her sister-in-law remained in the car, terrified of what would happen. But his grandmother persisted, and the family was served.
"I leaned into the strength and wisdom of those relatives who resisted, and struggled for freedom and justice,'' Prescod said. "That what gives me hope and allows me to continue even when things are difficult. I believe we are able to make a difference. Things may never be perfect, but it can be better for some people than it has been and that is what we are called to do.''
On Tuesday, Nov. 1, the Board of County Commissioners awarded Prescod the Gladys McCoy Lifetime Achievement award for his "outstanding volunteer service dedicated to improving the community." It was the first of five community awards dedicated to people whose efforts with the County or in the community make the County a better place.
"I cannot think of anyone more deserving to win the Gladys McCoy Award, you are so representative of her legacy and her values. Thank you so much for the service that you give to our community and to the world,'' Vice Chair Lori Stegmann said.
As the minister of faith formation at Ainsworth United Church of Christ in Portland, Prescod has helped his congregation learn about the issues faced by marginalized and disenfranchised people, including the poor, people of color and LGBTQ people, said Geroge Nicola who nominated him for the award Prescod. He has also influenced his congregants to help people with mental health issues. A friend calls him: "a leader in liberation theology."
His dedication
After middle school in Queens, Prescod attended Loomis Chaffee, a college preparatory boarding school in Windsor, Connecticut. After high school, he earned a bachelor of arts in Philosophy from Haverford College in Pennsylvania and a master's of Divinity from Union Theological Seminary in New York City.
He served with the Caribbean Conference of Churches, where he worked with peace and human rights groups and later as an associate pastor stateside before moving to Oregon 36 years ago.
His nominating letter said that Prescod's most enduring achievement was his cofounding of People of Faith Against Bigotry (PFAB) in 1992. The group was a coalition to oppose the Oregon Citizen Alliance (OCA) sponsored anti-LGBTQ Ballot Measure 9. The group was a grassroots interfaith group of Muslim, Jewish, and Catholic subcommittees which organized in their respective communities. The group "did some unique, and at that time unheard of,outreach to evangelical and fundamentalist churches that included monthly gathering of opposing religious voices in 1993. It was a fascinating gathering of LGTBQ people and religious fundamentalists." The work helped voters reject Measure 9.
According to the nomination, Prescod stayed involved, helping organize the PFLAG Portland Black Chapter, and Brother to Brother. He had a long-term commitment to groups like Love Makes a Family. He has produced his KBOO show "More Talk Radio" for 27 years. His program seeks to inform and educate people on current issues. As one associate stated, "Cecil's influence has been wide and consistent. He is a 'long distance runner.' He stays with the issue."
Prescod served on the National Council of the Fellowship of Reconciliation and was a chairperson of the Oregon Fellowship of Reconciliation. He was the board of directors of the Coalition for Human Dignity and on the board of directors of Ministries for Racial and Social Justice. He also serves on the Faith/Labor Committee of Portland Jobs With Justice and on the Board of Directors of Ecumenical Ministries Of Oregon and chairs its Public Policy Committee.
At the Board meeting, he recalled the work of Ms. McCoy — who, when she was elected to the Portland school board in 1970, became the first Black person to hold elected office in Oregon and went on to serve in the Legislature, on the County Commission and as Multnomah County Chair.
"In this time when there is so much that divides us, I think we could be guided by the spirit of Gladys McCoy who stated that the way to address the fear, frustration and hostility in society is, "for people to have the experience of living and working together with people who are different from themselves,'' Prescod said.
With anti-trans, anti-gay and anti-Black hate surging, Prescod acknowledges, "We are living in very difficult, challenging times.''
But he reminded the Board of the late Congressman and civil rights leader John Lewis, who said, "Ours is not the struggle of one day, one week or one year. Ours is not the struggle of one judicial appointment or presidential term. Ours is the struggle of a lifetime, or maybe lifetimes. And each one of us and every generation must do their part."
View Gladys McCoy's Queer Hero profile at this link.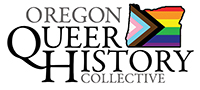 P.O. Box 3646 • Portland, OR 97208-3646 • info@glapn.org
Copyright © 2022, Gay & Lesbian Archives of the Pacific Northwest