HEARTS AND VOICES:
BARBARA SANDERS ROBERTS
Personal Recollections of Oregon Gay History

By George T. Nicola
Last updated February 9, 2011
1. A friendly face
When I served as the first gay civil rights lobbyist in the Oregon Legislature, I felt out of place and I didn't know many people. I was working out of Representative Vera Katz's office. One day, a woman named Barbara Sanders visited the office. She was lobbying for special education because she had an autistic child.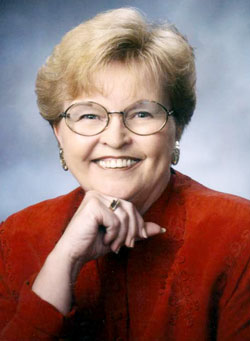 I was discussing possible sponsors for my bill, and Barbara volunteered some advice. That was nice of her, considering I had not met her before, and I had no idea if she was familiar with gay issues. A couple weeks later, she took me to coffee in the Capitol cafeteria and we had a pleasant chat. That was very heartwarming to me as a stranger in the Capitol lobbying for what was a marginal issue at the time.
2. Music to our ears
In 1974, Barbara married fellow Democrat Senator Frank Roberts, so we now know her as Barbara Roberts. In 1980, she was elected to the Oregon House, and a couple years later became the House's first female Majority Leader.
In 1984, Barbara was elected Oregon's Secretary of State. At her swearing in, she invited the Portland Gay Men's Chorus to sing. The man who introduced the chorus asked Barbara if he could omit the word "gay" when introducing the group. But Barbara insisted that the word "gay" be retained. She likes to note that in spite of this controversial inaugural choice, four years later in her 1988 re-election, she won every county in Oregon.
3. Nice people some times win
In 1990, Barbara ran for governor. Although I wished her the best, I could not believe that someone so nice and personable could reach the highest level in the state. To my delight she won, and became Oregon's first female governor. She held up great even though her husband Frank died during the term.
4. Continued dedication
Throughout her whole political career, and continuing after she left office, Barbara has remained dedicated to the cause of gay civil rights and dignity. She was one of the few heterosexuals to serve on the national board of the nation's largest LGBT organization, the Human Rights Campaign. Barbara attends almost every concert of the Portland Gay Men's Chorus. And a friend of mine visiting an AIDS hospice found our former governor washing dishes to help out. Barbara is also a close friend of fellow Oregonian Terry Bean, one of our nation's most dedicated LGBT activists.
In 2007, Oregon finally passed a bill banning sexual orientation and gender identity discrimination. Speaking at the bill's signing by Governor Ted Kulongoski, Barbara echoed my sentiment that she had been afraid that this type of bill would never pass in her lifetime.
In June, 2010 while we were waiting for Portland's annual Pride march to begin, I presented Barbara with a shirt that read:
BARBARA ROBERTS
GUARDIAN ANGEL OF THE QUEST FOR GAY EQUALITY
It took me 37 years to pay her back for that cup of coffee. I finally got around to it.
More info on Barbara can be found at these sites: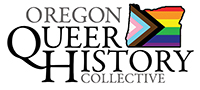 P.O. Box 3646 • Portland, OR 97208-3646 • info@glapn.or
Copyright © 2015, Gay & Lesbian Archives of the Pacific Northwest