HEARTS AND VOICES: Stevie Remington
Personal Recollections of Oregon Gay History

By George T. Nicola
Last updated February 9, 2011
In 1972, I needed help on some gay related issue. Someone suggested I talk to the American Civil Liberties of Oregon. I went to the organization's austere office and met Executive Director Stevie Remington.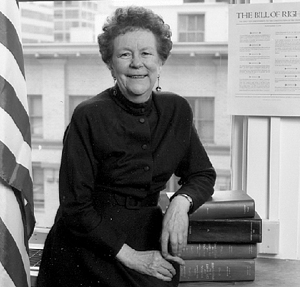 We had a nice conversation and she told me about a school teacher near Salem who had been fired for being a lesbian. The ACLU had taken up her cause and the case was being handled by a young attorney named Charlie Hinkle. Both Stevie and Charlie were very helpful to me when I lobbied for gay civil rights, and both continued long after I discontinued my activism in 1974.
Stevie Remington, 1928-2004
Identified as: Heterosexual woman
In fact, it was the ACLU of Oregon that passed the first important gay rights related legislation long before Oregon's LGBT community had fully organized. In 1971, Oregon became the third state to repeal its sodomy law, partly due to ACLU lobbying efforts.
Stevie was Executive Director from 1971 until 1992. One year in the 1980's, Stevie won a well deserved Lucille Hart award given by the Right to Privacy PAC. When she retired in 1993, the Oregonian called her "Oregon's First Lady of Liberty".
In 2004, Charlie Hinkle "announced the creation of the new Stevie Remington Award, which will be given in the future to individuals or groups who, by significant personal sacrifice, have contributed to the advancement or defense of civil liberties and civil rights." (http://archive.acluor.org/Celebrating%20Freedom%20&%20Civil%20Libertarians.html). More recently, the organization also created an award named after Charlie.
Current Executive Director of the national ACLU is Hispanic and openly gay Anthony Romero.
The ACLU has often been attacked by critics by both the right and the left. But while at times it may be difficult for some to agree with all its positions, it is hard to imagine what our country would be like without it. It is largely because of the ACLU that the United States has some of the strongest civil liberties protections in the world.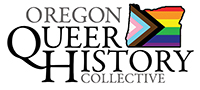 P.O. Box 3646 • Portland, OR 97208-3646 • info@glapn.or
Copyright © 2015, Gay & Lesbian Archives of the Pacific Northwest