HEARTS AND VOICES:
GRETCHEN MILLER KAFOURY
Personal Recollections of Oregon Gay History

By George T. Nicola
Last updated October 20, 2010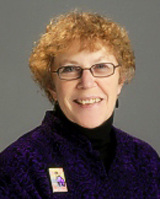 Gretchen Kafoury
1. Gretchen Kafoury, early advocate for Oregon gay civil rights
In 1973, we Oregon gay activists tried for the first time to obtain statewide civil rights protection. We would have had no idea how to proceed without the help of Gretchen Kafoury.
I first met Gretchen through a Reed College student who was boarding with the parents of Gretchen's husband at that time, Steve Kafoury. Steve had just been elected to his first term in the Oregon House of Representatives. Gretchen was the state legislative lobbyist for a coalition of Oregon feminist organizations. She took me to the Capitol where first term Representative Vera Katz allowed me to work out of her office.
Gretchen, Vera, and Steve showed me how to propose and lobby for the first Oregon statewide bill that would prohibit sexual orientation discrimination in employment and housing. We garnered an amazing 17 sponsors and the bill failed in the House by only two votes short of a majority. But it was a major milestone in Oregon support for gay equality.
In 1977, Gretchen returned to Salem, this time as an elected member of the House of Representative. She became a sponsor of a new bill to ban sexual orientation discrimination. Gretchen allowed the gay lobbyist of that time to use her office as a base.
In 1985, Gretchen was elected Multnomah County Commissioner. There she successfully pushed for a resolution that banned sexual orientation discrimination in county employment.
In 1974, before Gretchen held public office, the Portland City Council passed a resolution banning discrimination in city employment. In 1990, Gretchen was elected to the Portland City Council. The following year, she helped pass an ordinance that banned sexual orientation discrimination by all employers doing business in the city, as well as in housing and public accommodations. (GAY- RIGHTS LAW ENACTED, Oregonian 10-4-1991 or
http://0-infoweb.newsbank.com.catalog.multcolib.org/iw-search/we/InfoWeb?p_action=doc&p_topdoc=1&p_docnum=1&p_sort=YMD_
date:D&p_product=NewsBank&p_text_direct-0=document_id=(%200EB086AFD6BA1286%20)&p_docid=0EB086AFD6BA1286&p_
theme=aggdocs&p_queryname=0EB086AFD6BA1286&f_openurl=yes&p_
nbid=F62Y4FEFMTI4NTY4NzgwMC4yNDE4ODg6MToxMzoxOTIuMjIwLjEyOC4w&&p_
multi=ORGB.)
Just before leaving the City Council in 1998, Gretchen sponsored an ordinance which urged "appropriate strategies for implementing anti-discrimination . . . for transgendered and transsexuals within the City Workforce."
In 2000, gender identity was added to the employment non-discrimination ban covering all employers in the city of Portland. (CITY EXPANDS RIGHTS ORDINANCE TO TRANSGENDERS , Oregonian, 12-14-2000 or http://0-infoweb.newsbank.com.catalog.multcolib.org/iw-search/we/InfoWeb?p_action=doc&p_topdoc=1&p_docnum=1&p_sort=YMD_
date:D&p_product=NewsBank&p_text_direct-0=document_id=(%200EB08CB5586311D8%20)&p_docid=0EB08CB5586311D8&p_
theme=aggdocs&p_queryname=0EB08CB5586311D8&f_openurl=yes&p_
nbid=M66R54UKMTI4NTYyODQ3NS43ODAxOTU6MToxMzoxOTIuMjIwLjEyOC4w&&p_
multi=ORGB).
Given the fact that statewide protection was not enacted until 2007, it was a major benefit that LGBT people at least had civil rights in Portland.
In 1982, Gretchen was the first recipient of the Lucille Hart Award, given by the gay civil rights group Right to Privacy PAC. In 1992, she received the Human Rights Award from the American Civil Liberties Union of Oregon.
2. Gretchen as feminist pioneer
Gretchen had been hired as a women's rights lobbyist in 1973 for good reason. She was a founder of Oregon National Organization for Women (NOW) in 1970 and the Oregon Women's Political Caucus in 1971. (http://www.sunschools.org/Public/EntryPoint?ct=9ab55f2d5f862110VgnVCM1000003bc614ac
RCRD&cpsextcurrchannel=1).
In her lobbyist position, she helped get Oregon to approve the Equal Rights Amendment to the United States Constitution. She was also instrumental in the passage of other bills, including a law which prohibited sex (gender) and marital status discrimination in housing and public accommodations.
3. Gretchen as advocate for housing
During her political career, Gretchen also took a keen interest in health care, mental health care, criminal justice, homelessness, poverty, and teen health centers. She is remembered by the Gretchen Miller Kafoury Award, which is presented to individuals who have made significant contributions to housing and community development in metropolitan Portland.
Also named for Gretchen is Gretchen Kafoury Commons, which provides apartments for low income people. It was named "to honor her tireless efforts advocating the need for affordable housing." (http://www.hapdx.org/newsroom/pdfs/PR062000.pdf)
4. Gretchen, one of Oregon's great human rights pioneers.
Gretchen ranks as one of the outstanding human rights advocates in Oregon history. Although as a heterosexual woman she was not directly affected by antigay discrimination, she took the issue as her own, and became one of the great pioneers of gay equality in Oregon. For this reason, she can rightfully be called the "Godmother of Oregon Gay Civil Rights". But thousands of Oregonians regardless of sexual orientation, gender identity, gender, or race, owe Gretchen a huge debt of gratitude for her courageous contributions to human dignity.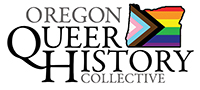 P.O. Box 3646 • Portland, OR 97208-3646 • info@glapn.or
Copyright © 2015, Gay & Lesbian Archives of the Pacific Northwest