Speeches, oral histories, personal and organizational profiles, miscellany
A Compass for Our Future
By Suzanne Deakins, Ph.D., GLAPN
Many years ago I sat in a teaching lab at UCLA, when the professor, Dr. Rod Gorney began talking about violence, creativity, and history. Up until that moment, I had never connected the three: history had always been about dates and wars in my mind.
He was eloquent in his approach and my other concerns passed as I listened intently to this lesson that would change my life. His thesis was based on the idea that without history we are doomed to violence, and stunted creativity. He went on to explain that when history showed the impact on society, the humanity of life, it changed how people made decisions. "Without history we are doomed to repeating violence." His study showed that when each of us understood our personal, family, and tribe history we could relook our decisions and the impact of decisions on our life. His further study showed that in the worst situations when young people understood history/herstory, instead of turning to violence they turned to using their creativity to resolve social issues and pains.
This is why I belong to and support GLAPN. Through the years I have seen what can happen to my brothers and sisters. I have feared for the life of my son who died from AIDS way too early, seen my friends discriminated against in housing and medicine. I have seen the longing for families and a sense of normalcy in life. I embraced my own fear that my children would be taken away if I were found out. 
In many ways 2015 is a watershed year. The achievements in the GLBT community are gargantuan. They have not been without pain, or fear. BUT we knew our history and knew it was important to prevail, to embrace each other. We learned that hate was only conquered with love and tolerance.  Remember this year, teach it to your children, nieces, and nephews. Let those young people know what came before so they may find their way to helping all those who are thought less of and discriminated against. History is an art, full of glorious moments, times of fear and pain, and times we should hide our heads in shame for what we were afraid to do. Society is changed, enlightened, and embraced by one footstep at a time. One person clapping can bring the thunder of change. 
Without history we have no compass to the future. We must know from whence we come to find our path to the future. 
Suzanne Deakins, Ph.D., is an author, and publisher of One Spirit Press/Q Press. Her commentaries have appeared in Bloomberg Press, Working Women, Art Age, and Wall Street Journal. Some of her books include: Back to the Basic Management, Lost Craft Of Leadership, Authentic Forgiveness, Sacred Intimacy, Double Chocolate, Book of Exotic Poetry.  She may be reached at onespiritpress@gmail.com.
---
Four columns for Just Out
By Robin Will
Just Out began as a tabloid newsmagazine based in Portland, Oregon, aimed at the region's LGBTQ community.
The publication was founded in 1983 by Renée LaChance and the late Jay Brown, who both had experience with earlier Portland-based gay publications. In 1998, LaChance sold Just Out to Marty Davis, who ran the publication until 2011, until she was stopped by that era's economic downturn. Local publishers Jonathan Kipp and Eddie Glenn acquired Just Out in shortly afterward, changed format radically, and ran for six issues before deciding the publication was not financially viable. Just Out closed again in March, 2013.
During the short Kipp-Glenn tenure, GLAPN was approached to provide a brief historical column for each issue. Four articles were provided in all. Two of them actually appeared in print before the magazine shut down. We're reproducing all four of them here.
A brief history of Just Out … (January, 2013) by Robin Will
Picking up Volume I, Number One, of Just Out, (October, 1983), is like walking into an argument in progress.

"We're back, folks!" Jay Brown announces in the very first editorial. "And we're doing it our way."

From the distance of 30 years, it isn't clear who had been missing, where they had gone, whose way they had been doing it before, or even what "it" was.
However, queer Portlanders in 1983 knew that "it" was the issue of inclusion; and by the way, we never, ever called ourselves queer in those days. Queer was a sneering, pejorative, oppressive term, and, to this day, some elders in the community have difficulty saying it. Nowadays, the term "queer" lets us avoid the alphabet-soup LGBTQI label that never seems to fit; but in fact, in 1983 we didn't have the alphabet soup, either.  The story of Just Out began in the controversy over changing the name of 1983 Gay Pride to "1983 Lesbian & Gay Pride."

Emotions ran high. Lesbians, and plenty of other folks, favored inclusion. The publisher of Portland's only gay newspaper at the time, the Cascade Voice, believed that "gay" was inclusive enough. "Lesbian & Gay Pride 1983" finally won out, but two staff members at the Cascade Voice, editor Renee LaChance and assistant editor/photographer  Jay Brown, felt the value conflict strongly enough to leave the Voice and start up their own newspaper. In Just Out, the two of them were indeed back – back in print, and running their own very inclusive show. 

Portland watched to see if the town would support two gay newspapers – or, rather, one gay newspaper, and one lesbian and gay newspaper with regular contributions from the black community, plus writers in Roseburg and the Klamath Basin.

Yes, Portland supported Just Out; or, more correctly, Just Out earned its place in Portland. By any measure, each of the early issues looked healthier than the one before, with more advertising, more local articles, and more engagement with the community.

The little publication overcame two potentially fatal problems during that first year. Circulation dwindled when Just Out, initially a free publication, suddenly started charging 25 cents per issue, possibly because people outed themselves just by buying one. Renee and Jay went back to distributing their papers for free at friendly locations. Also in the first year, the pressroom at Nickel Ads abruptly refused to print Just Out any longer, causing the young publication to miss an entire issue, and leaving the staff scrambling to locate a printer who found the content morally acceptable.

Nonetheless, at the end of the first year, in October, 1984, Just Out was up to twenty well-filled tabloid pages from the original sixteen, and looking good.

For those who were wondering, Cascade Voice printed their last issue in December, 1984, changed ownership, and came back as The Eagle Newsmagazine from January through August of 1985. The City Open Press, City Week, Oregon Gay News, The Portland Monitor, and The Alternative Connection all came and went between 1985 and 1993.

Just Out continued, inclusively. Jay Brown died in 1990. In 1998, Renee sold Just Out to Marty Davis, who ran the publication until 2011, when it was acquired by its current owners.
Sodomy and Sterilization in good old Oregon … (February, 2013)
(Note: A 400-word magazine column doesn't allow justice to be done to Oregon's early sodomy and eugenic sterilizations statutes. GLAPN's George Painter provides a thorough discussion of those laws on this site, at this link, and other commentary can be found by typing "Oregon eugenic sterilization" into any search engine.)

By Robin Will

Imagine this: you have enjoyed a passionate night with your special someone, and in the morning, you head out for breakfast. Outside, you find your landlady and two policemen waiting. Another robbery, you think, or a weirdo on the loose.

No. Your nosy landlady never really liked you much. She's sure there's something wrong when two men spend so much time together. She has reported you to the authorities. The policemen are there to arrest you!

The charge will be sodomy. Your apartment will be searched. Your friend may be charged, or offered a deal to testify against you. You may plead guilty – or plan on standing trial. Witnesses will be called. The newspapers will be involved. You will almost certainly be fired from your job. If convicted, you will spend one to 15 years in the state penitentiary.

It sounds like something out of the dark ages – but until 1972, this could have happened in Oregon. Before 1965, along with the prison sentence, you could have been sterilized!

But, you're thinking, you'd never be convicted. There were no witnesses. There is no evidence. Besides, Americans don't go around sterilizing people. That would be incorrect, times four. Perverts and moral degenerates were often convicted on testimony alone, and the Eugenics Board referral for sterilization was automatic.

Oregon's first sodomy law dates from 1853. In 1913 the law's scope was expanded, and the maximum penalty tripled. It specifically banned anal and oral sex, along with unnamed "perversions," and treated it all the same as sex with animals. In 1926, an attempt to commit sodomy was judged the same as the actual act. In 1928, consensual masturbation was included, and in 1961, the Oregon Supreme Court added cunnilingus to the list. In 1970, the court determined that golden showers were included in the legal definition of sodomy.

Sodomy law got extra bite in 1917, from a eugenics law that authorized sterilization of the feebleminded, habitual criminals, sexual perverts, and moral degenerates.

Arrest, imprisonment and sterilization didn't always happen. But it could happen, and there was little recourse. When someone lived out and proud before 1972, this was the risk they took.

Fortunately for us, things changed. After 1965, the eugenics law applied only to the mentally ill and the mentally retarded, and it was repealed for good in 1983, the year Just Out was first published. In 1972, Oregon was among the first to decriminalize consensual adult sexual activity, except for prostitution (and, as a nod to conservatives, the age of consent was raised from 16 to 18 years of age). Nationally, sodomy laws were struck down by the U.S. Supreme Court in Lawrence v. Texas, in 2003.
When parents come out of the closet … . By Robin Will
(This column never appeared in print. Just Out closed down before the March 2013 issue went to press.)

Here's a different kind of coming out story: in the early 1970s, Ann and Bill Shepherd came out as the parents of a gay child.

They discovered that public support of their homosexual child could put them in conflict with just about every other element of their community. It got them death threats and promises of cross-burnings. However, it offered hope to other parents of gay kids; and it brought allies, in the form of Rita and Charles Knapp, who were in the process of coming out with their daughter, Kristan. The two couples founded Parents of Gays in Portland.

As a "family newspaper," the Oregonian wouldn't publish an advertisement for Parents of Gays until 1976, so POG started small, getting its earliest publicity from word of mouth, and flyers circulated in gay bars. Then, in 1977, KATU-TV aired a Town Hall program on "the question of gays in society."

"Mom and dad's phone number ran on the screen and was repeated by the host," recalls Susie Shepherd, "and within hours, their phone was ringing off the hook."

In 1981, LGBT support groups formed the national Federation of Parents and Friends of Lesbians and Gays; and in 1982, Portland's Parents of Gays joined the national PFLAG. Attorney Bill Shepherd did the legal work for their incorporation.

Members of the queer community clung to PFLAG like it was a life preserver, which in many cases, wasn't far from the truth. In early 1984, Just Out quoted something Ann Shepherd had said in one of her TV appearances: "Ann Shepherd …  talked about some of the lesbians and gays she has met through PFLAG. 'Some have asked if they could call me Mom. One man said he wanted to do so, "because my mother says I'm dead,"' Mrs. Shepherd said."

PFLAG's work isn't done. When queer kids come out, they tend to leave the closet door standing open behind them. Sometimes, parents and family members decide to come out as well, to embrace their kids' gayness, to continue being a family. And, of course, sometimes not. But the program that started from Ann Shepherd's kitchen table now has a Black chapter, an East County chapter – and there are chapters in twelve other cities in Oregon, from Pendleton to Gold Beach.

All of them were founded by straight people who came out as parents of gay kids. That's what we mean in the queer community when we talk about Straight Allies.
Liberation and empowerment? Not if you're in high school … By Robin Will
(This column was in the pipeline for the April, 2013 issue of Just Out at the time the publication closed down.)

The earliest waves of LGBTQ liberation and empowerment left Oregon's high school students relatively untouched.

Gays and lesbians started organizing locally in 1970. It wasn't all deadly serious. LGBTQ bowlers and their friends got organized in 1978, and gay square-dancers formed the Rosetown Ramblers in 1983. Relatively speaking, grownups were on a roll.

Gay high school kids waited to hear the language of liberation and empowerment – in school, anyway – until there could be out gay teachers.  It took a while. Peggy Burton, a teacher in Turner, was fired in 1971 after admitting she was gay. She appealed, and the verdict came back in her favor, in early 1973. Peggy received a settlement, but was not reinstated in her job. She left the state, and changed careers.

There were youth activities outside of schools – in Portland, at least – and Just Out paid attention. Windfire, a rap group for LGBT teens, ("rap" still meant "discussion" in 1983), met in various venues through the late-'70s and early-'80s. Entrepreneur Lanny Swerdlow opened a series of nightclubs for the underage LGBTQ crowd (Mildred's Palace, The City, Evolution), and kids attended them in droves. Swerdlow was hailed as hero by some folks in the community, and as a dirty old man by others.

By the mid-'90s, Just Out was reporting on changes within the schools, with LGBTQ teachers doing the heavy lifting. The Gay, Lesbian & Straight Education Network (GLSEN), had its beginnings in Boston in 1990, when there were possibly two Gay-Straight Alliances (GSAs) in the country, and only one state had legal protections for queer high school students. GLSEN went national in 1995, and showed up in Oregon shortly thereafter.

Larry Smith, now retired from teaching, was chairman of Oregon's chapter of GLSEN from 1998 until January of 2013. Larry's workshops taught teachers and counselors how to create safe, respectful environments for LGBT students, and how to overcome resistance from administrators. Larry also took his message to the community, partnering with Nike's Lesbian, Gay, Bisexual, Transgender & Friends Employee Network in a leadership workshop for high school GSAs. Ten years ago, 75 students attended. In 2012, more than 400 young people, accompanied by their advisors, attended the Nike-GLSEN Youth Forum.
Oregon Safe Schools and Communities Coalition appeared in the early 2000s. Just Out reported a substantial grant from Equity Foundation to OSSCC in 2003. Nowadays, they are working statewide to help school districts comply with the Oregon Safe Schools Act of 2009.
---
A Different Daughter, Billye Talmadge
This article originally appeared in PQ Monthly in October, 2015. View the article in its original context at:   http://www.pqmonthly.com/a-different-daughter-billye-talmadge/23760

By Suzanne Deakins, GLAPN
September 21, 2015
Billye Talmadge, Ph.D., was born on December 7, 1929 in Missouri, and raised by her mother in Oklahoma. The black sheep of the Talmadge family, she is the niece of former U.S. Senator and Georgia Governor Herman E. Talmadge.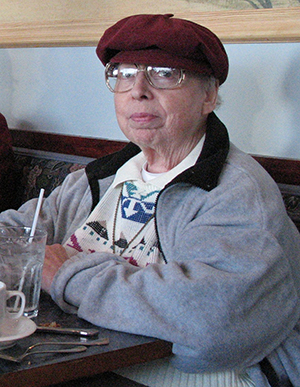 In September 1955, she joined a group of other women in Rose Bamberger's living room for a gathering that would lay the foundation for the Daughters of Bilitis (DOB), the first lesbian civil rights group in America. By 1958 DOB had formed a network of local chapters across the country and between 1960 and 1970, DOB sponsored public conventions on gay and lesbian issues. Billye acted as educator to the women that came as well as in interviews and literature, presenting the DOB and GLBT issues in a non-threatening manner to the general public. She was involved with the Gab 'n Java sessions, The Ladder magazine, and in the formation and development of the Council on Religion and Homosexuals. She was an early supporter of Troy Perry and the formation of the Metropolitan Community Church. From the very beginning she was heavily involved in education and peer-to-peer counseling, which often was as simple as reassuring Lesbians they were not ill or depraved. 
DOB became more and more involved with civil rights. Instead of speaking in terms of gay and lesbian, DOB often used the term variant, as in alternate sexual preference. Members were assured that their identity would be kept secret as it was a time when many would have lost their jobs or been expelled from school if their sexual and gender preferences were known. Billye used a code name of "PD Griffin" or "PD Griff".
Early on Billye became interested in human sexuality and the variations it represented. She has always identified as female, but taught and showed that the androgynous nature we all have allows us to identify as any gender. She was instrumental in providing the philosophy for Del Martin and Phyl Lyons activities on human sexuality in San Francisco.
One of my recollections of stories Billye told me about the early days of DOB was that they were inclusive of all races. She often recounted that there was no greater minority than a Hispanic or African American Lesbian.
Billye has dedicated her life to education and inclusion of all women. Her memories are full of DOB and the early days and the individual stories of the women who came to DOB seeking shelter and companionship from their well of loneliness in a world who rejected them.
I moved Billye from Maryland to Portland in March 2013 she now resides in a convalescent home. Billye and I are in the process of recording her stories. These are the stories of women, their humanity, sexuality, and the drive to be accepted politically and equally in our world.
(In addition to working with GLAPN, Suzanne Deakins is owner of One Spirit Press. Her company has published a number of LGBTQ books.)
---
PCC Cascade campus launches Queer Resource Center
This article originally appeared in PQ Monthly in November, 2015. View the article in its original context at:, http://www.pqmonthly.com/pcc-cascade-campus-launches-queer-resource-center/23925
By George T. Nicola
The Cascade Campus of Portland Community College launched its new Queer Resource Center (QRC) with a grand opening on Monday, October 12. About 80 people attended. The event was organized by QRC Student Advocates, with support from Debra Porta, an employee of PCC Cascade who is also President of Pride Northwest."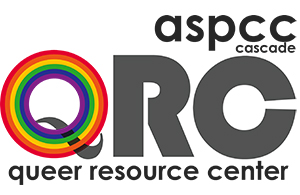 QRC Student Advocates and ASPCC Student Leaders who spoke included Will Spalding, Israel Johnson, Onesha Cochran-Dumas who is also active with PFLAG Portland Black Chapter, and Red Hamilton who is also campus Black Student Union Coordinator.
Others who addressed the gathering included openly lesbian Oregon House Speaker Tina Kotek, PCC Cascade President Dr. Karin Edwards, and PCC Chief of Staff Dr. Traci Fordham (on behalf of PCC Interim President Dr. Sylvia Kelley).
 
PCC's website states "The Queer Resource Center's mission is to facilitate a campus community that intentionally advocates for, supports, and empowers students, faculty, staff, and alumni of all sexualities, sexes, gender identities, and gender expressions. We conduct educational outreach as well as provide a safe, welcoming space that offers both academic and personal support to Portland Community College's LGBTQQ and Ally communities."
For more detail, please see https://www.pcc.edu/resources/qrc/cascade/.
---
Portland activist wins global recognition
This article originally appeared in PQ Monthly in November, 2015. View the article in its original context at: http://www.pqmonthly.com/portland-activist-wins-global-recognition/23927
By George T. Nicola
Openly gay Portlander Trevor L. Chandler was chosen as one of the Top 50 Diversity Figures in Public Life in the Global Diversity List published by The Economist.
The Public Life category "recognises the achievements of individuals who have used their position in public life, for example as a campaigner, politician or journalist to make an impact in diversity."
The article states that "Chandler is Associate Regional Field Director at Human Rights Campaign [HRC], which allows him to further the cause of LGBT rights and acceptance by working with supporters, allies and partners on strategy across the Western US. He trains activists on effective messaging, crafting plans and contacting legislators, as well as organising lobby days and rallies to boost awareness of the struggle for equality."
The other 49 people on this list include Barrack Obama, Michelle Obama, Hillary Clinton, Prince Henry of Wales, Caitlyn Jenner, Angelina Jolie, Queen Noor of Jordan, Jesse Jackson, Bill Gates, and the 14th Dalai Lama of Tibet. The entire list can be found at http://www.globaldiversitylist.com/top-50-diversity-figures-in-public-life.html.
Trevor was born and raised in New Hampshire. He came to Oregon temporarily a few years ago when HRC assigned him to work with Oregon United for Marriage. He decided to move here permanently, and travels to HRC assignments around the country as needed.
The Economist is a weekly newspaper edited in offices in London. It has been in continuous publication since 1843. This was the first year it published the Global Diversity List.
---
PFLAG Portland wins national award
This article originally appeared in PQ Monthly in November, 2015. View the article in its original context at: http://www.pqmonthly.com/pflag-portland-wins-national-award/23923
By George T. Nicola
PFLAG Portland Oregon originated in 1976 as Parents of Gays (POG). In 1983, it joined a coalition of national groups to become PFLAG, which originally stood for Parents and Friends of Lesbians and Gays. Today, it is fully inclusive, with about half its members LGBTQ, and the other half straight cisgender allies.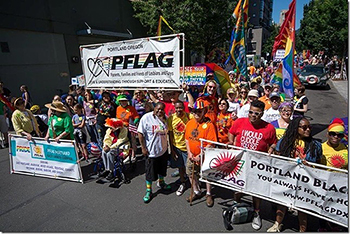 In the past few years, the organization has become a family of three chapter: PFLAG Portland, PFLAG Portland Black Chapter, and PFLAG East County. Every year the PFLAG National Network honors exceptional chapters in three categories: Support, Education, and Advocacy.
This year, the PFLAG Portland family of chapters shared the support award with PFLAG Columbia-Howard (Maryland) for its leadership in developing its network of community-responsive chapters to better serve the diverse Portland Metro area. The award announcement states:
After reflecting on the diverse and complex needs of their community, PFLAG Portland developed a family of chapters in the Portland metro region. This includes the PFLAG Portland Black Chapter which serves the African-American community and PFLAG Portland East County which serves more conservative areas in Multnomah County. Each group works independently to meet the specific needs of the families that come to them for support and they also work together to creating real and lasting culture change in Portland area schools, religious institutions, governmental organizations, and more.
PFLAG Portland President Dawn Holt notes "We don't do this work for the recognition, but it's nice to be one of the 4 most innovative chapters in the 350+ chapter PFLAG National Network."
---
Local activists win Light-a-Fire Awards
This article originally appeared in PQ Monthly in November, 2015. View the article in its original context at http://www.pqmonthly.com/local-activists-win-light-fire-awards/23921
By George T. Nicola
Each year, Portland Monthly magazine presents its Light a Fire Awards which it describes as their "annual celebration of good deeds" and "annual showcase of local individuals and organizations making Portland a better place to live, love, give, and grow."
This year, three of the twelve recipients are people who have made substantial contributions to Portland's LGBTQ community.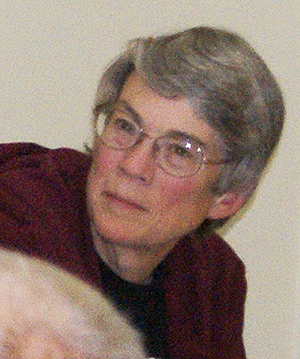 Jean DeMaster received the Lifetime Achievement award. She was a co-founder of the Outside In Counseling Center. For eleven years, she directed Transition Project. Jean's Place, a shelter for homeless women, was named for her. In the thirteen years before her retirement, Jean headed the very effective Human Solutions. Under Jean as Executive Director, Human Solutions built hundreds of units of low income housing. They have also helped with eviction prevention for families on the brink of homelessness, utility assistance, and employment training programs.
Jean was an early lesbian activist, having started in 1970 with the Portland Gay Liberation Front, the parent of Oregon's current LGBTQ movement. She helped establish the Women's Resources Center, the Women's Resource Fund, and the Oregon Feminist Federal Credit Union. In 1972, she was involved with the Gay Women's Caucus. That same year, she joined a group that demonstrated to have homosexuality removed from the American Psychiatric Association's list of mental disorders.
Giovanni Blair McKenzie (pronouns: Giovanni, they) is this year's Light a Fire awardee for Emerging Leader.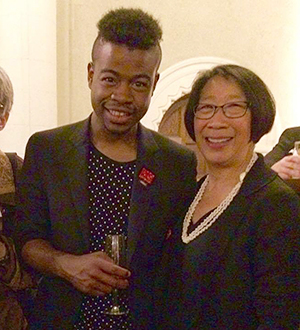 Giovanni has worked to help others cope with challenges similar to theirs as a young, black, LGBTQ immigrant.
"The barriers in front of young people like myself are just so "right"complex," says Giovanni. "I want to see a city and world where queer and trans youth of color can truly thrive."
At the age of 19, they founded the non-profit Queer Intersections Force to aide other LGBTQ youth at the intersections of marginalization. A year later, Giovanni launched Queer Intersections Portland.
In response to Giovanni's articulate advocacy, the Human Rights Campaign (HRC) appointed them as a national Youth Ambassador (the only ambassador appointed in the Pacific Northwest). In this role, Giovanni delivered a compelling speech at the 2015 HRC Foundation's Time to THRIVE Conference in February 2015.
A video and transcript of the presentation is featured in the Southern Poverty Law Center's Teaching Tolerance program for educators.
Anita Yap, a committed straight ally, is Extraordinary Board Member.
As a board member of the Asian Pacific American Network of Oregon (APANO), she encouraged the organization to take charge of the Jade District. In the process, she guided the Jade concept toward "building prosperity for the diverse community that's there, not about displacement." Once the relationship between APANO and Jade District was established, Anita helped guide it.
The Jade, Anita says, is "not 'the new Chinatown.' It's what the future looks like."
Anita is the very supportive mother of two LGBTQ daughters. She has also provided considerable assistant to local LGBTQ activists.
Details on all the awards can be found at http://www.pdxmonthly.com/features/2015/10/21/introducing-our-2015-light-a-fire-winners.
---
Community Profile: Cascade AIDS Project (CAP)

By George T. Nicola
November 27, 2015
In late 2015, I nominated Cascade AIDS Project (CAP) for the Spirit of Portland Award (SOP). Although CAP did not receive the award, I have turned the nomination narrative into an article so that more people could be aware of the organization's many contributions. I also nominated CAP for the Queer Heroes NW Award which the organization won in 2013: http://glapn.org/6354CAP2013.html.

Incorporated in 1985, Portland based Cascade AIDS Project (CAP) is the oldest and largest AIDS service organization in Oregon and Southwest Washington. CAP is a 501(c)(3) nonprofit with the stated mission "To prevent HIV infections, support and empower people living with or affected by HIV, and eliminate HIV-related stigma and health disparities."
While CAP has done an excellent job working to prevent further spread of HIV, it has been heroic in helping those already infected. I am nominating CAP for the Spirit of Portland Award in the category that honors "organizations that go above and beyond to make Portland more inclusive for people with disabilities" (Organization Making a Difference). According to the U.S. Department of Justice Civil Rights Division "Persons with HIV, both symptomatic and asymptomatic, have physical impairments that substantially limit one or more major life activities or major bodily functions and are, therefore, protected by the [Americans with Disabilities Act] law." (http://www.ada.gov/aids/ada_q&a_aids.htm)
Through its work in preventing further HIV infections, CAP has helped assure that less people will be disabled. CAP has also been outstanding in its work of managing infections to prevent them from reaching more advanced stages. It does that by helping those infected get through all aspects of life. This has prevented minor and controllable disabilities from becoming major disabilities which are more difficult to cope with and can sometimes be fatal.
CAP helps infected people receive health services, jobs, and housing. In terms of health management, "CAP is a one-stop shop for medical care, support groups, and other healthcare referrals." To help with housing "CAP has spent years building relationships with landlords and rental property owners", and can help its clients find safe options, help pay their rent and find affordable homes. It is entirely possible that without these efforts, many people with AIDS would literally be dying on Portland's streets. 
Working Choices is CAP's employment assistance program. It is a personalized and holistic approach to helping a client find work, get their GED, learn to write a stellar resume, or find job leads. Even if a client has a challenging work history or has tried other vocational rehabilitation programs with little success, Working Choices can often help them. 
HIV has the potential of affecting and infecting anyone. It is not something that involves just one community. Still, CAP has taken great efforts to reach people within their cultural contexts. CAP has worked closely with groups and individuals to contact men who have sex with men (MSM). Additionally, CAP has been successful in reaching communities of color. In fact, CAP's current Executive Director Tyler TerMeer is a black gay man who has been living with HIV for many years. Additionally, much of CAP's work goes to help low income people who are sometimes desperately in need of it services. Only through full inclusiveness can the HIV problem be addressed. CAP has been exceptionally effective in making sure that all segments of our community are included in its message and in the delivery of its services.
Although CAP has a substantial paid staff, it has mobilized an army of volunteers to augment its mission. One of many examples is its annual AIDS Walk Portland which helps raise money for its extensive services. 
In addition to participating in the AIDS Walk, I have personally done some other volunteer work for CAP. I saw the diversity of its client. I wondered how some of those people would have survived without its services. Probably most Portlanders would have lost more friends and family to AIDS were if not for the work of Cascade AIDS Project.
I strongly believe that CAP, in the services it delivers and the way it includes all aspects of our community, deserves the Spirit of Portland Award. For thirty years, it has assisted some of those in our community who need help the most. 
For more information on CAP, please see its web site at http://www.cascadeaids.org/.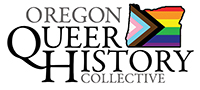 P.O. Box 3646 • Portland, OR 97208-3646 • info@glapn.or
Copyright © 2015, Gay & Lesbian Archives of the Pacific Northwest