HEARTS AND VOICES: STEPHEN KAFOURY
Personal Recollections of Oregon Gay History
By George T. Nicola
Last updated January 10, 2013

Stephen Kafoury
Identifies as straight man
When lobbyist Gretchen Kafoury took me to Salem in 1973 to show me how to promote Oregon's first gay civil rights bill, she gave me a great start. She arranged a base for me in the office of House of Representatives member Vera Katz. Katz would become one of the bill's primary sponsors. The other would be Gretchen's ex-husband, Stephen Kafoury.
Stephen, like Vera, was in his first year as a House member from Portland. But it was obvious from the start that he was politically savvy. Stephen was outstanding in working with other legislators and in helping me get them to cosponsor the bill. He often took courageous positions. Although he is straight, he already knew gay issues well, just a few years after the modern gay movement began.
The bill failed passage in the House by just two votes short of a majority. But in the process, it gave birth to what would eventually become the large and strong Oregon LGBT movement we have today. For that healthy birth, we can thank Stephen, along with others such as Gretchen and Vera.
Stephen served of four years in the Oregon House and four years in the Oregon Senate, for a total of four sessions. He introduced our bill in each of those sessions. I wasn't there after the first session, but I know from friends how hard Stephen worked to support our cause. In fact, Stephen tells me that after the 1973 bill, he was considered the "foremost sponsor" of gay civil rights legislation.
Since leaving the Legislature in 1980, Stephen has held many positions, including Oregon League of Conservation Voters Board Chair, Oregon School Boards Association President, and Portland School Board Chair.
http://www.zoominfo.com/#!search/profile/person?personId=149790553&targetid=profile
Beginning in 1998, Steve has run his own company, Stephen Kafoury Public Relations. (http://www.linkedin.com/pub/stephen-kafoury/3/aa1/a4a)
Gretchen went on to state, county, and city elective office. Stephen's and Gretchen's daughter Deborah served in the Oregon House and is currently a Multnomah County Commissioner. Stephen's second and current wife, Marge Kafoury, was elected to the Metro Council. Stephen's brother and nephew have had public service careers as well.
In 2001, the Portland Tribune referred to the Kafoury family as "Portland's most enduring political dynasty". (http://thetribonline.com/news/story.php?story_id=5467)
Stephen and his brother, like me, are paternally of Lebanese decent. Ethnicity, of course, shouldn't matter. But given the anti-Arab prejudices I have often witnessed in this state, it is important to point out the contributions that some Arab Americans have made to the advancement of human rights and dignity for their fellow Oregonians.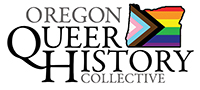 P.O. Box 3646 • Portland, OR 97208-3646 • info@glapn.or
Copyright © 2015, Gay & Lesbian Archives of the Pacific Northwest