Portland State University
Capstone Classes
In order to graduate from Portland State University, students are required to spend an academic term in supervised community service. PSU refers to this service as the "capstone" of a college education.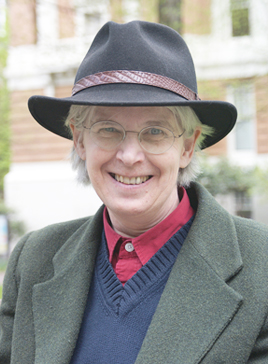 Each term a variety of senior capstones are offered at PSU. One of them is UNST 421 LGBTQ History, taught by GLAPN's Pat Young. Here's what PSU's website says about the course:
Learn about local queer history from the folks who paved the way, and help preserve their stories. Our community partner is the Gay and Lesbian Archives of the Pacific Northwest (GLAPN). Help GLAPN save our history by doing an oral history/interview of an elder member of the community. GLAPN selects the folks you'll interview. Students will work in pairs for the interview. Before you do the interview, you'll learn about local queer history including anti-gay ballot initiatives, early gay-rights groups, and social groups. You will also examine original sources such as old newspapers, fliers, newsletters and such. You'll discuss the advantages and disadvantages of using oral histories and original sources to save local queer history.
"Processing a collection" means taking materials in whatever form they were saved (neatly filed, stuck in a scrapbook, tossed into a box), and getting them organized and indexed, ready for the library at the Oregon Historical Society. In the spring of 2011, the LGBTQ History Capstone was working on the papers from Love Makes a Family, an Oregon-based organization that was one of the first nationally to advocate for LGBTQ adoption rights.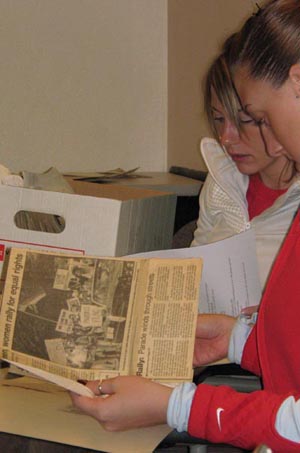 Previous Capstone classes, in a project that took several terms, completed the cataloging of the Shepherd Family Papers (Bill and Ann Shepherd were among the founders of PFLAG, Parents and Friends of Lesbians and Gays, in Oregon). Other projects have included archival materials from the Lesbian Community Project in Portland.
Capstone students also help to gather oral histories, recording and transcribing stories from elders in the Queer community for inclusion in the OHS archives.
Here's a link to a video about GLAPN's Capstone:
http://capstone.unst.pdx.edu/courses/lgbtq-history
The oral histories collected by Capstone students are being accumulated at this link.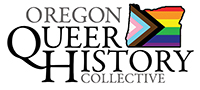 P.O. Box 3646 • Portland, OR 97208-3646 • info@glapn.or
Copyright © 2015, Gay & Lesbian Archives of the Pacific Northwest