Queer Heroes NW 2014:

Leila Hofstein
Leila Hofstein is a community organizer by day and a social justice superhero by night. As the Youth Coordinator for PFLAG Portland Black Chapter, Leila travels the city conducting outreach to LGBTQ youth,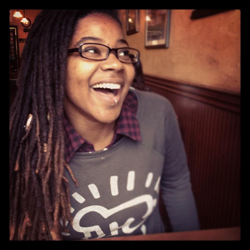 educating teachers and parents about how to be better allies, and leveraging resources to use in working with queer and trans* Youth of Color to create social change.
Leila was instrumental in creating Q Crew, the first ever LGBTQ youth programming at Matt Dishman Community Center. Q Crew is a weekly program that invites participants to make art, learn history of Queer People of Color, and engage in social justice activism. In addition to facilitating Q Crew, Leila visits about eight schools every week and makes frequent stops at youth drop-in spaces that serve many youth who are not enrolled in school. She also works with youth serving agencies to ensure that everyone is connected. She works to connect individuals and small community groups with one another so that youth can build capacity to work together in creating a more visible and powerful LGBTQ youth community.
In addition to Leila's advocacy work with queer and trans* youth, she is engaged in building more inclusive queer community for people of all ages. During her time with PFLAG Portland Black Chapter, she has raised over 40,000 dollars for the chapter. When Leila is not writing grants, facilitating panels, and conducting outreach, you can find her photographing and tattooing queer Portland!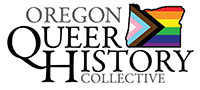 Copyright ©2014 • Gay & Lesbian Archives of the Pacific Northwest