Queer Heroes NW 2014:
The Audria M. Edwards Scholarship Fund
Audria Mae Edwards had six children, four of whom were LGBTQ. She was the second president of the PFLAG Portland, and the first African American in the country to head a PFLAG chapter.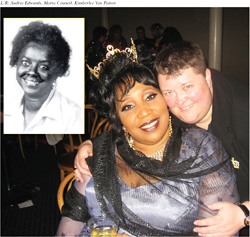 Two of Audria's children; Lady Elaine Peacock and Misty Waters, created this scholarship fund in their mother's memory and upon their deaths in 1993, entrusted Maria Council and Kimberlee Van Patten with the work of carrying it forward. Under their leadership, over $200,000.00 has been granted to LGBTQ students living in Oregon or Southwest Washington.
Maria Council – often known by her stage name Maria Peters Lake --was the first female Rose Empress of Oregon's oldest non-profit; The Imperial Sovereign Rose Court (ISRC). She has coordinated and/or emceed numerous community events, including Peacock in the Park, Peacock after Dark, The Pride NW Parade, numerous Pageants and Coronations. Maria co-owns the Portland Gay Pride Pageant and is Treasurer of Vancouver's Saturday in the Park.
An accomplished event planner, Kimberlee manages the nuts and bolts of Peacock events such as security, insurance, contracts, lights and sound. In addition to Peacock in the Park and Peacock After Dark, she has coordinated Darcelle XV's 75th & 80th Birthday Galas, countless ISRC Coronations & Pageants and several theatrical plays. Kimberlee reigned as Rose Emperor XXIII in 1996-97.
In 1999, Maria and Kimberlee founded Peacock Productions, Inc.; a 501(c)3 non-profit which administers the AME Scholarship Fund and is currently managed by a 9-member board of director including Matthew Akerson, Jane Arends, Brian Everest, Casey Ipock, Corey Payne, Gina Valdez & Ron Withrow.
Please join Q Center and GLAPN as we hold a reception at Q Center Thursday, June 12th, 5pm-7pm, 4115 N. Mississippi, to unveil the posters for all 30 of 2014's Queer Heroes!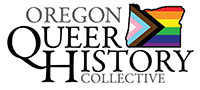 Copyright ©2014 • Gay & Lesbian Archives of the Pacific Northwest