Queer Heroes NW 2014:
Amani Jabari
Amani Jabari was a leader in breaking the silence and indifference about HIV/AIDS among people of color in Oregon.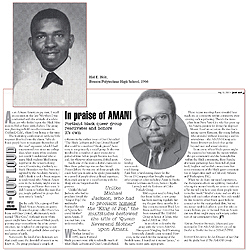 He founded and served as chairman of the board of the Oregon Minority AIDS Coalition. A founding member of People of Color United Against AIDS, he served on the Oregon AIDS Task Force and was involved with HIV- related programs sponsored by Multnomah County and the Oregon Health Division.
Amani was born Hal E. Holt in Portland, and graduated from Benson High School in 1966. He served in the U.S. Army during the Vietnam War, and spent most of the 1970s in Washington, D.C. supporting equal-rights issues and lobbying for fair housing practices and tenants' rights.
After returning to the Portland area in 1979, he served on the Urban League's Youth Service Center advocacy board. Amani worked as an administration benefits adviser for St. Joseph Community Hospital in Vancouver, Wash., for about four years before joining the staff of Good Samaritan Hospital & Medical Center.
A noted tenor, he organized the group Sojourn in the mid-1980s. The quartet of spiritual singers, which included his sister, Joanne Davis, performed for Portland-area churches and appeared at several events in the Northwest.
Amani A. Jabari died in July of 1990 at the age of 42. Since 1993, his memory has been kept alive through The AMANI Group, a gathering of the local African American queer community who celebrate each other through food, games, music and camaraderie.
Please join Q Center and GLAPN as we hold a reception at Q Center Thursday, June 12th, 5pm-7pm, 4115 N. Mississippi, to unveil the posters for all 30 of 2014's Queer Heroes!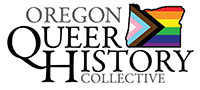 Copyright ©2014 • Gay & Lesbian Archives of the Pacific Northwest