Queer Heroes NW 2014:

Jules Garza
Jules Garza recalls that at an early age, she was "ignited" with a passion for LGBTQ justice after witnessing the severely anti-gay ballot measures sponsored by the Oregon Citizens Alliance. Today, Jules' energy, commitment, and community building skills have made her one of the most effective lesbian activists in Oregon.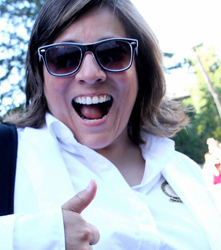 Two years ago, Jules founded a blog she still co-administers. Facebook's LGBTQ Portland now surpasses 1,000 members. For many, the blog is the major source of daily news about the community on a local, national, and international front. It also prompts people to take action and participate in community events. Since some people are still not Facebook members, Jules administers a Twitter page also called LGBTQ Portland.
Jules was born and raised in a Portland area Mexican American family. Her father was from Texas. Her mother was a farmworker whose family had traveled between the U.S and Mexico. The Latino Caucus of the Democratic Party of Oregon, which Jules chairs, reflects her commitment to that community. Jules is also Oregon Legislative Director for Unite Women and is on the LGBTQ committee of Bradley Angle, a Portland organization which seeks to serve all people affected by domestic violence.
Jules has a strong sense of equality and inclusion. She makes sure that the whole LGBTQ spectrum and people of all races, ethnicities, genders, and ages feel welcome.
The leadership Jules provides has been a huge inspiration to a wide range of people, from elderly white males to young women of color. Hers is the spirit that keeps our movement alive.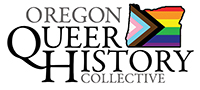 Copyright ©2014 • Gay & Lesbian Archives of the Pacific Northwest