Queer Heroes NW 2014:

Sanford Director
Portland's gay mayor
For Portland's gay community, the 1970s began with optimism, and ended with rumors of a "gay plague," which wasn't identified and named – AIDS – until the early 1980s.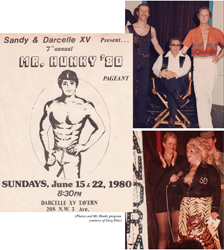 Sanford Director served the community in countless ways in those decades. He was well-connected in Portland, able to wield influence behind the scenes, and he was known for his ability to find face-saving resolutions to conflicts. He served on the boards of Esther's Pantry and the Right to Privacy Political Action Committee, and was involved in the beginnings of Equity Foundation and the Cascade AIDS Project.
As the AIDS crisis deepened, Sanford – and his drag alter-ego, Sandra Dee – coordinated innumerable fundraisers with Darcelle XV and the Imperial Sovereign Rose Court. The Mr. Hunky and Foxy Lady competitions were Sanford's signature pieces, along with Turnabout, where performers hilariously donned the opposite of the drag that they usually preferred. Those events poured tens of thousands of dollars into Portland's gay-friendly charities when the need was greatest.
The Imperial Sovereign Rose Court accorded Sanford the permanent title of Portland's Gay Mayor in honor of his service to the community.
Sanford Director died in March, 1992, when he was 54.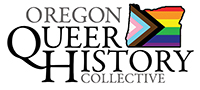 Copyright ©2014 • Gay & Lesbian Archives of the Pacific Northwest