Queer Heroes NW 2014:

The Rosetown Ramblers
Gay square dancing began in Portland in the fall of 1982, as people began to look for activities beyond the bar-and-bathhouse culture that had defined an earlier era.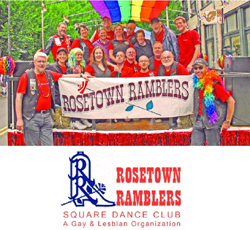 Neil Hutchins, writer and newspaper publisher, organized the first gay square dance gathering, wondering if anyone would show up – and the turnout was bigger than anyone expected. By the end of 1983, the Rosetown Ramblers were an item.
By the time the Portland group got organized, there were already gay square dancers in Seattle, and in April of 1984, the Seattle club hosted the First International Gay Square Dance Convention, at the Madison Hotel.
Some people in the established square dance community were outraged by the formation of gay square dancing clubs. Other folks simply wondered if the newcomers could actually dance!
When the Rosetown Ramblers hosted the 1987 International Association of Gay Square Dancing Clubs Convention at Portland's Hilton Hotel, dancers actually faced a gauntlet of pickets at the doors of the hotel. They came in and danced anyway.
When the IAGSDC came to Portland again in 1998, the pickets stayed home.
Today, "Gay" square dancing welcomes dancers without regard to age, race, gender, religion, ethnic background or sexual orientation. It's one of the few venues where gay men, lesbians and others meet and socialize, and straight people attend because they like the relaxed atmosphere. Classes are offered to bring beginners up to speed, and a full schedule of activities includes travel to other cities for IAGSDC gatherings.
Visit RosetownRamblers.com for full information.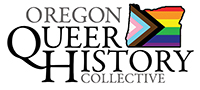 Copyright ©2014 • Gay & Lesbian Archives of the Pacific Northwest