Queer Heroes NW 2014:

Candi Brings Plenty
Candi Brings Plenty has been a lifelong advocate for justice and has been rooted in her identity as a Two-Spirit Oglala Lakota Sioux.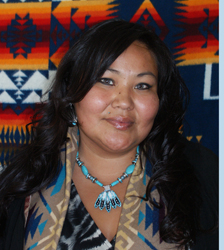 Having worked with the Portland Two-Spirit Society, Candi is now empowering other two-spirits by forming both a statewide non-profit, Oregon Two-Spirit Society, as well as the first Pacific Northwest Native American PFLAG chapter. The way that Candi advocates is through a lens of traditional Native American ideals. People with both male and female spirits were considered twice-blessed, and were honored in their communities. Candi has provided for a homecoming of sorts for those who identify as Two-Spirit in the Native American community.
Candi Brings Plenty has many opportunities ahead and is rising to the challenge. One of her great partnerships was with Basic Rights Oregon. She literally became the face of the Two-Spirit community in Portland and nationally when her family was featured in BRO's Native American LGBT Two Spirit short film.
Candi works as a Community Health Advocate at the Native American Youth & Family Center. In addition, she mentors NAYA Early College Academy youth and will implement a Gay Straight Alliance during the 2014-2015 school year at the Early College Academy, along with a Two-Spirit Family Advocacy Project.
She developed grants for numerous local projects for Two-Spirit resources that allowed her to give guidance for a youth mentorship program through the Native American Rehabilitation Association (NARA), and she makes time after work to mentor with the Youth Two-Spirit Society at NARA.
Candi also collaborates with the Oregon United for Marriage as a member of the Communities of Color roundtable.
Candi is committed to creating an empowered and compassionate community and has been a light and a leader for many within in her community who struggle with the challenges of identifying as Two-Spirit (or LGBTQ). Candi is a true leader of the people and has the strength of fierce advocacy to last generations to come.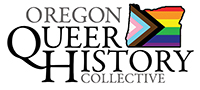 Copyright ©2014 • Gay & Lesbian Archives of the Pacific Northwest