Queer Heroes NW 2014:

Margaret-Ann Jones
Margaret-Ann Jones has spent her entire life as a community helper. She is the daughter of a Pentecostal preacher, and as a child, she did what she could to help in her father's congregation.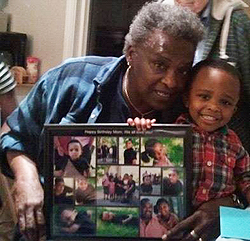 Margaret-Ann came to Portland in 1992 to attend the School of Social Work at Portland State University. She recalls thinking that, in Portland, she could finally live authentically and without defenses. But she didn't count on the racism she found inside and outside of the LGBTQ community in the city.
Margaret-Ann looks at the components of discrimination and responds where she can, a process she likens to coming out, over and over. She can't do much about sheer hate, but ignorance can be addressed; cultural differences, can be explained, shared and possibly enjoyed; and inertia and hopelessness can be overcome with empowerment.
In terms of intersections between forms of discrimination, an African-American Lesbian woman stands in a busy place. Margaret-Ann recently turned the corner on another intersection when she reached the age of 65.
The new intersection is reflected in her "retirement," which for someone like Margaret-Ann, means simply a broader choice of where to work. Margaret-Ann supports Portland PFLAG's Black Chapter. She has found a church home at Ainsworth United Church of Christ, where she can be who she is and help strengthen the church's relationships to LGBTQ elders. She teams with SAGE (Services & Advocacy for GLBT Elders) and *eRa* (Encouraging Respect for Aging), and LOCA (Lesbians of a Certain Age) in Portland to build bridges and empower people across boundaries of color, age, and their status as sexual minorities.
See a video interview of Margaret Ann at this link.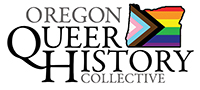 Copyright ©2014 • Gay & Lesbian Archives of the Pacific Northwest