Queer Heroes NW 2014:

The Laughlin Family: Mike, Rhonda, Randell, Sander
The entire Laughlin family came out of a particular kind of closet years ago when they revealed they had a transgender child.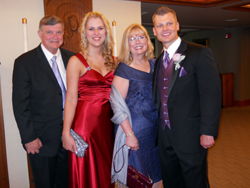 In the 1990s, nobody knew much about transgender people. Mike and Rhonda Laughlin did a variety of things to encourage their son, Sander, to be more masculine. They realized they needed professional help when Sander first voiced a suicidal thought – at age 7.
The Laughlins are open about their struggle – they hid dolls and dresses. They stopped going to church. They changed neighborhoods. They stopped having birthday parties, and retreated into a life of secrecy, hiding Sander's dolls and girl-clothes when visitors arrived.
"I felt like Anne Frank hiding from the Nazis," Sander said in a newspaper interview as a teenager.
Mike and Rhonda were still keeping secrets when they literally stumbled upon the Portland Pride Parade in 2000, and watched representatives of the Northwest Gender Alliance march by. A light went on in Rhonda's head. The next year, they brought Sander – the first time they ever took her out dressed as a girl. Things began to change after that.
Today, Sander Laughlin is a young woman who prefers not to dwell on the past. Brother Randell, a straight man, is a vocal supporter of LGBTQ issues. The Laughlins attend accepting churches now.
Rhonda and Mike Laughlin are active and vocal PFLAG parents, still reaching out to help parents of transgender children.
And dozens, if not hundreds, of transgender children and their parents, are grateful for the example the Laughlins have set since they came out.
Please join Q Center and GLAPN as we hold a reception at Q Center Thursday, June 12th, 5pm-7pm, 4115 N. Mississippi, to unveil the posters for all 30 of 2014's Queer Heroes!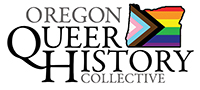 Copyright ©2014 • Gay & Lesbian Archives of the Pacific Northwest