Queer Heroes NW 2014:
Jeff Rose

Jeff Rose left a permanent landmark in the Portland LGBTQ community: he formed the Bill and Ann Shepherd Legal Scholarship Fund of Equity Foundation.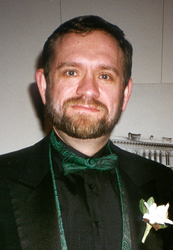 A tightly closeted Jeff Rose left Tuskahoma, Oklahoma, on the stroke of midnight upon turning 18, and headed as far west as possible, as fast as possible. In Portland, Jeff dove head-on into community activism, and won the Mr. Portland Leather contest in 1993.
As Mr. Portland Leather, Jeff sponsored fundraisers for all the AIDS groups in town, as well as for battered women's shelters. For his stepping-down as Mr. Portland Leather, he chose to honor the efforts of Bill and Ann Shepherd, who had co-founded Portland PFLAG nearly 20 years before.
He approached Equity Foundation, then only 5 years old, to manage the funds, and on April 21, 1995, the first Class Act benefit was held at The Old Church, featuring Thomas Lauderdale at the keyboard, and Margie Boulé singing.
Over the years, the fund has awarded nearly $140,000 to law students entering their last year of law school, who are committed to continuing the battles against LGBTQ-related bigotry and discrimination.
Jeff only lived to produce the first three Class Act benefits. He was taken from us in September 1997.
Please join Q Center and GLAPN as we hold a reception at Q Center Thursday, June 12th, 5pm-7pm, 4115 N. Mississippi, to unveil the posters for all 30 of 2014's Queer Heroes!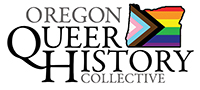 Copyright ©2014 • Gay & Lesbian Archives of the Pacific Northwest