Queer Heroes NW 2014:
CM Hall
CM Hall, a native Oregonian who lives in Portland, is an ASL interpreter and teacher of LGBTQ Studies and DeafBlind Interpreting at Western Oregon University. She is also the Project Coordinator for the Western Region Interpreter Education Center.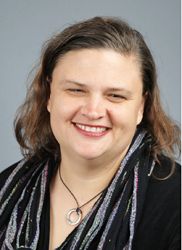 CM Hall earns her students' respect with current and past activism outside of class: working with No on 9 Campaign in 2000, working with Basic Rights Oregon and their Equality PAC, Oregon United for Marriage, and in various positions with the Human Rights Campaign going back to the 1990s. CM was one of the founders of the Oregon Safe Schools and Communities Coalition in 2001.
Her supporters say that CM has transformed the WOU campus over the last 20 years, coming out when it was still risky, and helping to form student LGBTQ organizations - Triangle Alliance and Safe Zone - before it was clear they were welcome.
If there is an LGBTQ event on campus, odds are that CM is involved, speaking and/or interpreting up front, or volunteering in the background. The annual Drag Show, the Day of Silence/Night of Noise, the Safe Zone campus committee, GLSEN-based Ally Trainings all benefit from CM's abilities, and she is a trusted resource for programs, fundraisers, and student leadership.
Some LGBTQ students reported being worried about coming to WOU, wondering how they would fare in the small-town/small campus environment, and feeling better after meeting CM Hall.
Other students report signing up for CM's classes expecting an easy "A," and finding themselves drawn in and changed by her passion for her subjects, learning to be proud of themselves and becoming activists or allies for life.
Please join Q Center and GLAPN as we hold a reception at Q Center Thursday, June 12th, 5pm-7pm, 4115 N. Mississippi, to unveil the posters for all 30 of 2014's Queer Heroes!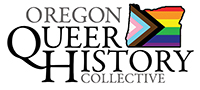 Copyright ©2014 • Gay & Lesbian Archives of the Pacific Northwest