Queer Heroes NW 2014:
Danni/y Rosen
Danny Rosen began exploring his feminine side with the Northwest Gender Alliance in the 1980s, when he considered himself a cross-dresser. Those were the years of the Oregon Citizens Alliance's anti-LGBTQ ballot measures, and when NWGA members decided to go public to discuss their concerns, Danny was drawn into activism.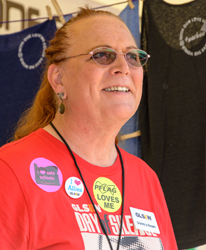 Today, Danni/y spends approximately equal time in male and female roles, and leans toward "genderqueer" when considering a label at all. Danni/y is married, and the Rosens have a daughter and grandson who live with them.
Now retired from a career in Information Technology, Danni/y appears to have sought out responsibility early and often. Danni/y is Chair of the Clackamas County PFLAG, Co-chair of the Oregon State PFLAG Council and Chair of the Oregon Chapter of GLSEN (Gay, Lesbian, Straight Education Network).
Danni/y has volunteered heavily with the Portland Police Bureau; including the Crisis Response Team (sexual minorities team); as a citizen member of hiring panels, and a citizen member of the Bureau's awards review board. He has already served the maximum terms allowed on performance review boards and the use-of-force review board.
Danni/y is also a member of the Q-Patrol, and volunteers with Basic Rights Oregon with the TransJustice working group, as a member of the Hope Partnership Advisory Board with Janus Youth, and with the Living Room Youth Drop-in Program in Clackamas County.
Please join Q Center and GLAPN as we hold a reception at Q Center Thursday, June 12th, 5pm-7pm, 4115 N. Mississippi, to unveil the posters for all 30 of 2014's Queer Heroes!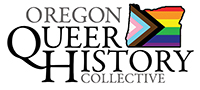 Copyright ©2014 • Gay & Lesbian Archives of the Pacific Northwest