Click on the icon to return to the Making History Now index.
GLAPN was honored in the spring of 2010 to be part of the first Two-Spirit Conference in Portland, Oregon. Homo- and trans- phobia are problems in the native community, having replaced the honor that was universally accorded to Two-Spirit people before the coming of the white man. Sponsoring this conference to assist in reviving the Two-Spirit tradition in the native community was a signficant step for the Native American Student Center at Portland State University. Involving GLAPN was generous beyond measure.
Don't miss the bibliography at the end of the article.
The video of this event is now for sale on DVD. Click here to purchase single copies through a secure PayPal link, or contact us to get the best deal of shipping of multiple copies.
May 26, 2010
Two-Spirit gathering at Portland State University, Wednesday, May 26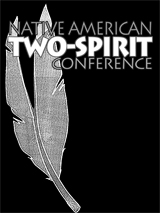 A pair of Native American Two-Spirit individuals appeared at Portland State University on Wednesday, May 26, 2010, 11:00 AM-3:00PM.
"Two-Spirit" refers to a revival of the tolerance and veneration with which Native Americans viewed their gay, lesbian, bi-, transsexual and gender-queer kinfolk in pre-Christian years. The term refers to individuals who have both male and female spirits. "Two-Spirits" also refers to the current movement to erase homophobia in reservation culture.
The gathering was sponsored jointly by PSU's Native American Student and Community Center, and Gay & Lesbian Archives of the Pacific Northwest (GLAPN). It was held at the Native American Student and Community Center on the Portland State University campus (corner of SW Broadway and Jackson Streets).
The featured speakers were Amanda Wright (Klamath), of Portland, OR, who works in the field of public health, and Raven E. Heavy Runner (Blackfeet), who is currently a social worker for Native Children and Families with the State of Washington.
There is no admission charge, and the event will be conducted within safe space ground rules.
INFORMATION ABOUT TWO-SPIRIT HISTORY AND TRADITIONS:
PRINTED MATERIAL:
Allen, Paula Gunn. The Sacred Hoop: Recovering the Feminine in American Indian Traditions. Boston: Beacon Press. 1992
Blackwood, Evelyn. "Sexuality and Gender in Certain Native American Tribes: The Case of Cross-Gender Females." Signs: Journal of Women in Culture and Society, 10.1 (1984): 27-42.
Gilley, Brian Joseph. Becoming Two-Spirit: Gay Identity and Social Acceptance in Indian Country. Lincoln: University of Nebraska Press, 2005.
Holzman, Red & Harvey Frommer. Red on Red. New York: Bantam, 1987.
Jacobs, Sue-Ellen, Wesley Thomas (Navajo), and Sabine Lang. Eds. Two-Spirit People: Native American Gender Identity, Sexuality, and Spirituality. Urbana and Chicago: University of Illinois Press, 1997.
Lang, Sabine. Men As Women, Women As Men: Changing Gender in Native American Cultures. Austin: University of Texas Press, 1998.
Roscoe, Will. The Zuni Man-Woman. Albuquerque: University of New Mexico Press, 1991.
Changing Ones: Third and Fourth Genders in Native American North
America. New York: St. Martin's Press, 1998.
Trexler, Richard C. Sex and Conquest: Gendered Violence, Political Order, and the European Conquest of the Americas. Ithaca and New York: Cornell University Press, 1995.
Williams, Walter L. The Spirit In The Flesh: Sexual Diversity in American Indian Culture. Boston, MA: Beacon Press, 1990.
WEB SITES:
Northwest Two-Spirit Society http://www.nwtwospiritsociety.org/
Native OUT, Phoenix, AZ http://www.nativeout.com
2SPR (Two-Spirit Press Room) http://home.earthlink.net/~lafor002/index.html
Bay Area American Indian Two-Spirits www.baaits.org
Montana Two-Spirit Society www.mttwospirit.org
Nations of the 4 Directions - San Diego www.notfd.blogspot.com
NorthEast Two-Spirit Society www.ne2ss.org
Ohio Valley Two Spirit Society http://ohiovalleytwospiritsociety.blogspot.com/
Two-Spirit Society of Denver www.denvertwospirit.com
2Spirits of Toronto www.2spirits.com
Regina Two-Spirited Society www.allnationshope.ca
[PDF] Microsoft PowerPoint - AHistoryof2SpiritedPeopleFinal[2]
File Format: PDF/Adobe Acrobat - www.2spirits.com/AHistoryof2SpiritedPeople.pdf
First Nations Two-Spirit Woman self-published book - www.2spirits.com/Two%20Spirit%20Women.pdf
The Impact of Colonization on the Role of the Nontraditional
Native American Woman
http://pages.cs.wisc.edu/~caitlin/papers/native.htm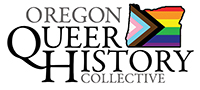 P.O. Box 3646 • Portland, OR 97208-3646 • info@glapn.or
Copyright © 2011